1 Kings 14: 8, "…But you have not been like my servant David, who obeyed my commands and followed me with all his heart and always did whatever I wanted"
Whatever?! Wow.
I participated in a men's bible study and David was the subject character. I did not feel comfortable. I felt out of place and like I stood out (even though there were 3 or 4 other women who sat in on the bible study). But I did it because I knew God wanted me to stay with the teacher who was leading the class. I fought against my tendencies rather than God and obeyed. I obeyed.
Throughout this bible study, I fell in love with David as a man – not romantically, but just his heart in general. It started when David told Goliath he was going to cut his head off and feed it to the birds. Right after he told Saul he didn't want his armor to fight Goliath. But he messed up…a lot and terribly. At times I was furious with him (how could he do what he did to Uriah and sleep with Bathsheba like that!). Other times I truly felt sorry for him (when King Achish asked him where he'd been and he told him he'd been killing so-and-so people all day long…and nobody thought twice about it…talk about a serious case of neglected PTSD).
There's nobody else like David in the bible. God compared a lot of kings to David after his reign ended. I had to admit…I wondered why. Not because I was judging, but because I've been taught that right-standing with God requires right behavior. While reading the entire story of David, it became evident that this wasn't true. Then it also became evident that a heart for God, His commandments, and His agenda and respect for His agenda were more pleasing to Him than a sinless life. When you have a heart for God, no sin will keep you from God. You will repent and do what you have to do in order to draw close to Him again.
His psalms made me wonder if he became extra proficient with handling his sheep out in the field so he could devote more of his time to singing praises to God out in open fields. They made me wonder if God had ever revealed to him while he was still a boy that he would be a king someday. They made me wonder what happened to David that – despite how much he messed up or how people turned on him – he did not give up on God. They made me wonder how I too, despite my flaws and human condition, can be willing, yielding and ready – to love God, to His agenda, and to do what He tells me to do. Whatever that may be.
I'm getting there. When I arrive, I'll tell you all about it.
http://authoroffaithmin.com/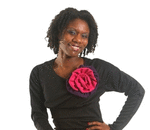 Posted By: Afi Pittman
Thursday, May 10th 2012 at 6:53AM
You can also
click here to view all posts by this author...