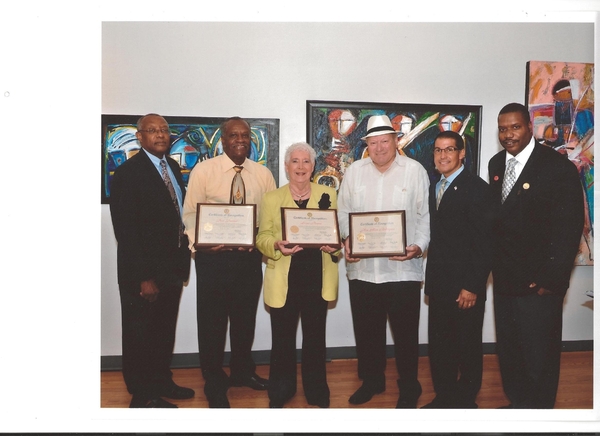 Left to Right: Mayor Wayne Hall, Don Durant, Honoree, Leone Baum, Honoree, Max Rodriquez, Honoree, Mark Bonilla, Hempstead Town Clerk, Phil Andrews, President, 100 Black Men of Long Island, Inc.
Honorees at African American Museum Hub Event
Hempstead, NY - Long Island has been long considered the Hub or epicenter of business. Recognizing this fact, small business owners around the region converged on Hempstead on Tuesday, July 24, 2012 in an effort to network and to develop strategies that would help them stimulate their own personal economic success.
Dubbed "Networking Tuesdays in the HUB," the event brought small business owners, community and civic leaders together to share information and support each other in these tough economic times, giving these professionals the opportunity to meet and talk with others in business and get results for what they want to do. Each participant had the opportunity to introduce and/or promote his or her business.
The special guest speakers for the event were Phil Andrews, CEO PA Public Relations Company/President 100 Black men of Long Island, Inc.
Topic: How to Master the art of Networking to Increase Your Bottom Line
Gail Lewis, Toastmaster – Mastering the art of a Great Elevator Speech.
A host of dignitaries attended and participated in the Hub Awards and Networking affair such as Hon. Deputy County Executive Dr. Phillip Elliot, Hon. Mayor Wayne Hall, and Hon. Mark Bonilla, Hempstead Town Clerk were in attendance to pay homage to honorees Leone Baum, Former President, Hempstead Chamber of Commerce, Don Durant, Former owner of Copy Man Copy Centre/Author of Nine Award Winning Books, and Max Rodriquez, Former Trustee Village of Hempstead/President, Hempstead Cuban Civic Association, and Ray Thomas Representative for Nassau County Executive Ed Mangano, and Fran Becker, Legislator, Nassau County Legislative District 6 (All government representatives in attendance presented special award recognition to honorees).
"Community development is an important idea, and it is central to returning the Village of Hempstead to its glorious past and rightful title as the Hub of Nassau County," said Claude Gooding, Commissioner of Community Development Agency for the Village of Hempstead.
Networking Tuesdays in the HUB, a Business-2-Business event is presented by Hempstead community-based newspaper, The Hempstead/Uniondale Times, along with Power Networking Business Seminar Series.
The event was covered by the local press TV and newspaper.
For further information, registration, sponsorship and benefits, call (516) 292-1263 o For more information via email contact us at hutimes@aol.com.
Don't forget to book mark
http://networkinginthehub.eventbrite.com.
To be placed on our email list for future events email us @ hutimes@aol.com
Posted By:
Saturday, August 4th 2012 at 10:40PM
You can also
click here to view all posts by this author...