As an author, you may have recently published a book. In writing this title, you dedicated much of your time and passion in order to create a final piece of work that can be enjoyed by people everywhere! But getting your book noticed is no easy feat. In this crowded marketplace (there were nearly 300,000 books published in 2007 alone) you MUST take an active approach to let book buyers know that your book exists, on both a national and a local level!
While national media exposure for you and your book is ideal, there is great power in local media exposure as well. By focusing on your hometown media outlets you will be able to build a solid base of fame and recognition from which to grow on. Creating as much "buzz" as you can locally will compliment your national campaign to no end and it also gives you invaluable media experience when the national media starts to knock on your door.
Fortunately many local journalists and on-air personalities enjoy interviewing local authors and experts like yourself. This gives you an upper hand in grabbing their attention, and you will also gain their support in spreading the word about your book!
If you want to create solid book "buzz" in your hometown, I would recommend the following actions:
*Book Signings: When it comes to the secret weapon of gaining local exposure for your book, they don't make 'em any stronger than this! At every book signing:
· Books will be stocked on their shelves after you leave, unless of course you have a sell-out
· You'll receive free advertising and promotion in the book store's customer mailings
· You'll have prominent placement for as much as a week prior to your signing
· You'll earn powerful third-party endorsements by store employees whom have met you during the signing
Book signings are a goldmine for local publicity. I strongly suggest doing as many as you possibly can, including all stores that are located within a 100 mile radius. Even ask friends and relatives to see about setting up book signings for you in their hometowns. The name of this game is not only to create the local "buzz", but it is also "let's sell some books!"
*Talk Radio Interviews and Television Appearances: Generally speaking, every city has radio and television programs that have a format for guests. Do your research on the web to find the main stations that broadcast in your hometown. Then go to their website where you will find information about the shows they broadcast. Look for those with a format for guests and find the contact information for the producer. Then call and pitch yourself as a guest. How many should you aim for? AS MANY AS POSSIBLE!
*Local Newspapers and Magazines: When it comes to the print media, at MMS we find that "Tips" type articles have an extremely high pick up rate with newspapers and magazines. If your topic offers any sort of solution to a problem, then a "Tips" article is what I would suggest. Write an article that gives 5-7 helpful, quality solutions (or "Tips") to a problem that many people face. Next, identify the newspapers and magazines in your local market, go to their website and find the right "beat" your topic falls in - for example - religious, business, health, lifestyle, etc - and send your article to the journalist that covers that "beat." If there isn't one person in particular that you can identify, "as you'll find in smaller weekly papers" send your article to the editor - in - charge. Make sure that the article is professional and print worthy, if so some publications will print it "as is." But since you're a writer, this should not be a problem. And once again, get as many print placements AS POSSIBLE!
When it Comes to Your Hometown Media: Get As Much As Possible!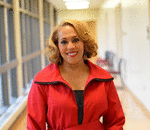 Posted By: Pam Perry
Saturday, September 20th 2008 at 10:58PM
You can also
click here to view all posts by this author...