Meet Kirk Franklin
Kirk Franklin's life was hardly built on a firm foundation. His father abandoned the family.
His mother also abandoned Kirk, and constantly told him he was an unwanted child.
He was adopted by his 64 year old Aunt Gertrude at the age of four.
His sister became a crack addict. He never saw a black man who was faithful in marriage.
Without a blueprint, he struggled mightily yet managed to triumph even more mightily, dedicating his life to helping others find hope during hardship.
With The Blueprint, he provides an inspiring blend of God and grit to deliver real-world words of wisdom.
The Blueprint delivers an honest new direction, taking faith out of the pews and into the real lives of all who struggle.
KIRK FRANKLIN: [Kirk Franklin is guest on Chocolate Pages show with Pam Perry! ]
Seven-time Grammy award winning artist offers an inspiring blend of God and grit for building a fulfilling life on new book.
http://www.blogtalkradio.com/chocolatepages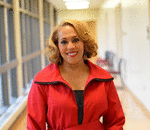 Posted By: Pam Perry
Sunday, April 25th 2010 at 2:27PM
You can also
click here to view all posts by this author...