CBN TV- Gangster Finds Forgiveness
Order book here:
http://www.innovopublishing.com/innovo-sto...
About the Book: The Tommie Scott Story is a true story—a true love story—but not of the usual variety. This is a story of a gangbanger, drug dealer, and "hit man" who worked his way through the juvenile reform system and into a California state prison by age twenty. It's the story of an angry young criminal with no remorse and no hope. And it's here—in the depths of hopeless darkness—that this story begins again. It begins again with a humble, gray-haired man who was not ashamed to be a servant and to share the power of God that brings salvation to everyone who believes. It begins again with a new birth—a spiritual rebirth into God's family through Jesus Christ. And it continues today with a repentant and joyful servant—a dedicated soldier for Christ—whose true story affirms God's Word that says, "... neither death nor life, neither angels nor demons, neither the present nor the future, nor any powers, neither height nor depth, nor anything else in all creation, will be able to separate us from the love of God that is in Christ Jesus our Lord" (Romans 8:38, NIV).
"For we are God's handiwork, created in Christ Jesus to do good works, which God prepared in advance for us to do" (Ephesians 2:10, NIV).
About the Author: Tommie Scott is former gang member and now born-again believer in Jesus Christ. He is an author, advocate for at-risk youth, a chaplain for the Las Vegas Community Gang Task Force, and a dedicated witness and soldier for Christ. Tommie is a native of Southern California. He grew up in poverty and was introduced to drugs, alcohol, and gangs as a pre-teen. The juvenile justice system, and later the California Department of Corrections, became his home. By God's grace, Tommie was introduced to Jesus Christ through a faithful Christian prison ministry. Just like Paul's dramatic conversion on the road to Damascus, God changed Tommie's heart and life forever during a prison Bible study. Tommie is now living and doing good works in Christ in Las Vegas, Nevada, with his wife, Rache't, and their five children.
Author Tommie Scott is available for interviews and book signings. If interested, please contact Innovo Publishing, LLC.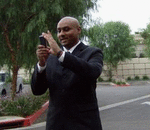 Posted By: Tommie Scott
Monday, August 26th 2013 at 2:38AM
You can also
click here to view all posts by this author...