From MMS Eblast:
Happy Miraculous Monday September 29!
(Ever) Feel like giving up?
by Jewel Diamond Taylor
The enemy has a set up to make want to give up.
The set up comes in the form of suicide, depression, apathy and defeat.
A song that inspires me when I'm feeling discouraged is by gospel artist
Marvin Sapp ..."This is not the time and this not the place to give up."
Even though "the thought" is in your head...let it pass.
Your pain is real and no one is denying that. You are not alone in your
struggle.
And there are countless people with testimonies of surviving what you are
going through and much worse. You either make a choice to quit or stick
with it. You simply must dig deeper for your faith, strength, courage,
self-worth and problem solving skills to push through this.
Feeling discouraged is something we all feel at times.
The only thing to give up is your pride, ego, doubt, temper, anger and fear.
Surrender only to God. Ask God to come into your heart.
Ask the Lord to give you peace so you won't fall to pieces.
Surrender to God's will for your life.
God is stretching out His hand to you in your storm. Hold on.
Give up your pain to the Comforter and He will bring you a peace
that surpasses all understanding.
His strength is yours in your time of weakness.
If your emotional pain and sense of defeat is very intense
and prolonged, please seek professional help.
Don't give up.
You are loved and very important to so many people.
You are a blessed child of God and possess a secret strength
to get through your storm. Your heart, mind, body and soul are whole
and being healed right now.
In the name of Jesus, I claim and agree with you...
that you are about to have a breakthrough.
Get powered up for your personal battle by doing one or
all of these steps:
1. Surround yourself with faith talking, loving and supportive people
2. Change your environment, go for a walk
3. Sit quietly and allow the Holy Spirit to minister to you
4. Go on a fast, change your focus by helping others less fortunate
5 Put the enemy on notice declaring that he cannot have you
6. Have a good cry and get back in the game following a routine
and strategy that will take you out of your storm.
"I pray that God's great power will make you strong,
and that you
will have joy as you wait and do not give up."
Colossians 1:11 (New Life Version)
subscribe free at
www.MinistryMarketingSolutions.com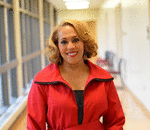 Posted By: Pam Perry
Sunday, September 28th 2008 at 9:17PM
You can also
click here to view all posts by this author...