In Mark 16, Mary Magdalene, Mary the Mother of James and Salome were on their way to Jesus' tomb to anoint his body. As they walked to the tomb, they discussed who would role away the stone from in front of the tomb. They knew that a very large stone covered the tomb entrance. Even though they knew about the large stone, they kept walking toward the tomb. When I read this story, I see three attributes in the actions of these women. They showed focus, faith and the fortitude to finish. They showed focus in how they decided on goal (to anoint Jesus' body), moved toward the goal and kept their eyes on the goal in spite of uncertainty. Today, many people do not even have a goal. Others have a goal, but do not take steps to accomplish the goal. Still some people get so distracted that they cannot finish their tasks or accomplish their goal.
The women showed faith by continuing their journey even though they did not know how or even if the stone would be moved. They had confidence in spite of what they could or could not see. What they knew of was a stone that they could not move. Even though these women knew they could not move the stone, they kept walking toward the tomb.
The women also showed the fortitude to finish. It took courage to go to the tomb. The Matthew version of the story (Matthew 27) describes guards being posted at the tomb. However, the women were determined to finish the journey in spite of the obstacles (guards and a very large rock). Many of us do not exhibit the determination needed to finish a task. These women could have easily and understandably stopped and turned around. However, they kept walking in the direction of their goal. The efforts paid off because when they got to the tomb, the stone had already been rolled from the tomb entrance. In many instances, we focus on and worry about future situations that will be resolved before we even get to them.
We should have the same approach these women. We should focus on a goal. We should have faith that we can accomplish the goal in spite of how things appear. Lastly, we should continue to work toward the goal until completion. I believe that as we work toward our goals, God will assist us just like He did these women.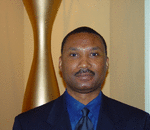 Posted By: Darcell Walker
Monday, April 13th 2009 at 12:38AM
You can also
click here to view all posts by this author...