Monday's Wall Street Journal (on-line) had a story about a man that had a job on Wall Street but lost it in 2007. HIs salary was more than $200K. He is now working for a restaurant for about $25K. I wonder why someone who has enough skills to get a job on Wall Street and earn a 6 figure salary has to now work for $25K a year at a restaurant. A normal response is that you have to do what you can to survive. I understand that. I know times are difficult for many of us. I also know that jobs (any of them) are hard to find.
My point is that I believe some people sell themselves short by only seeking employment when they have enough skills to create their own opportunities.
Paraphrasing Warren Buffet, 'The best response to a slow economy is to determine how one can generate their own wealth.' The story in this article underscores the need for people to look for entrepreneurial opportunities as well as employment opportunities. Unfortunately, many people only focus on finding a job and not creating an opportunity. I believe that if a person works on a job or in a particular industry for a significant amount of time, that person should be in a good position to know where the inefficiencies and deficiencies are in that industry. A good benchmark for experience in an industry is 10 years. The identified inefficiencies and deficiencies are really opportunities to explore. Many businesses grow out of identifying a need and meeting that need. However, for many of us, it is a matter of expanding our thinking to consider all options and opportunities (even the ones that we may need to create). Although the entrepreneurial road is not for everybody, I believe many people have the skills, experiences and expertise to create opportunities that will benefit themselves and others. It is first a matter of expending one's thinking and thinking outside the conventional and traditional boxes. This type of thinking can be risky, but also rewarding. Remember, society does not encourage risk taking, but society does reward risk taking.
See June 1st Wall Street Journal art "From Ordering Steak to Serving It."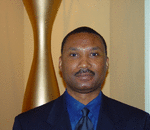 Posted By: Darcell Walker
Thursday, June 4th 2009 at 7:13PM
You can also
click here to view all posts by this author...