I was thinking about how ridiculous and absurd it must have sounded that David wanted to fight Goliath. David had ridiculous faith. He believed something many (including his brothers) probably thought was ridiculous. We need that same kind of faith (ridiculous faith). God can take something that seems ridiculous and turn it into reality. A year ago, many people thought electing a Black president was ridiculous, but now it is reality!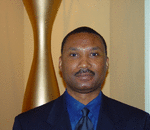 Posted By: Darcell Walker
Thursday, July 23rd 2009 at 12:32PM
You can also
click here to view all posts by this author...