The inaugural Inspirational Voice Award goes out to Senator Edward Moore (Ted) Kennedy for the timely actions he took in endorsing now President Barack Obama. Accolades go out for his taking a controversial stand at a pivotal point in history. All three candidates, Hillary, John and Barack were ardently vowing for Ted to pass the baton of leadership to them.
In Ted's endorsement he described Barack as a "man with extraordinary gifts of leadership and character," a worthy heir to his assassinated brother… "With Barack Obama, we will turn the page on the old politics of misrepresentation and distortion.
With Barack Obama we will close the book on the old politics of race against race, gender against gender, ethnic group against ethnic group, and straight against gay," Kennedy said.
Kudos goes out to Senator Kennedy for his ability to discern the winds of change and to fearlessly make the right decision. A leader looks ahead and prepares for the future without regard to the voices of naysayers. Dr. Martin Luther King Jr. put it this way, "Let us realize the arc of the moral universe is long but it bends toward justice." It is this arc that compels us in our brokenness to leave the past behind (for we all have sinned) and embrace the future by doing the right thing at the right time.
Senator Ted Kennedy will go down in the annals of history as a man who stood for justice, passed the baton of leadership at a crucial time, lent his Inspirational Voice so that America could live up to its creed of "one nation under God, indivisible, with liberty and justice for all." Thank you Senator Kennedy for hearkening to the voice of freedom here in the United States and all over the world.
My sincere condolences condolences for the lost of your sister and my prayers are sent up for your health and a speedy recovery.
© C. Joyce Farrar-Rosemon 2009
http://inspirationalvoices.ning.com/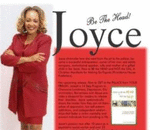 Posted By: C. Joyce Farrar-Rosemon
Saturday, August 15th 2009 at 12:27PM
You can also
click here to view all posts by this author...