I felt a good way to end this month would be on a light note. The Bible tells us that a "merry heart doeth good like a medicine: but a broken spirit drieth the bones" (Proverbs 17:22). My friends do you know that science is now showing us empirically how laughter positively effects the body, immune system and promotes life. Take a look at this article below by two California researchers and you will be amazed at what laughter can do. I've included some cartoons and some dumb stupid jokes to keep you on the road to a healthier you so that you won't dry out. Let's continue to laugh, eat right, exercise, and take care of our emotions so that we can truly be Winners at life.
Stay Blessed!
Joyce
Therapeutic Benefits of Laughter
"Dr. Lee Berk and fellow researcher Dr. Stanley Tan of Loma Linda University in California have been studying the effects of laughter on the immune system. To date their published studies have shown that laughing lowers blood pressure, reduces stress hormones, increases muscle flexion, and boosts immune function by raising levels of infection-fighting T-cells, disease-fighting proteins called Gamma-interferon and B-cells, which produce disease-destroying antibodies. Laughter also triggers the release of endorphins, the body's natural painkillers, and produces a general sense of well-being….
Research results indicate that, after exposure to humor, there is a general increase in activity within the immune system, including:
An increase in the number and activity level of natural killer cells that attack viral infected cells and some types of cancer and tumor cells.
An increase in activated T cells (T lymphocytes). There are many T cells that await activation. Laughter appears to tell the immune system to "turn it up a notch."
An increase in the antibody IgA (immunoglobulin A), which fights upper respiratory tract insults and infections.
An increase in gamma interferon, which tells various components of the immune system to "turn on."
An increase in IgB, the immunoglobulin produced in the greatest quantity in body, as well as an increase in Complement 3, which helps antibodies to pierce dysfunctional or infected cells. The increase in both substances was not only present while subjects watched a humor video; there also was a lingering effect that continued to show increased levels the next day."
http://www.holisticonline.com/Humor_Therapy/humor_therapy_benefits.htm
DUMB, STUPID JOKES
JOKE # 1) How do you catch a "UNIQUE RABBIT"?
ANSWER--YOU -- NIQUE up on it!
JOKE # 2) How do you catch a "TAME RABBIT"?
ANSWER--TAME WAY!
JOKE # 3) How do you"TOP' A CAR?
ANSWER--TEP ON THE BWAKE! NOW DO YOU FEEL ---TUPID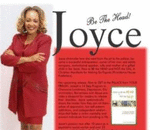 Posted By: C. Joyce Farrar-Rosemon
Sunday, November 22nd 2009 at 6:00PM
You can also
click here to view all posts by this author...