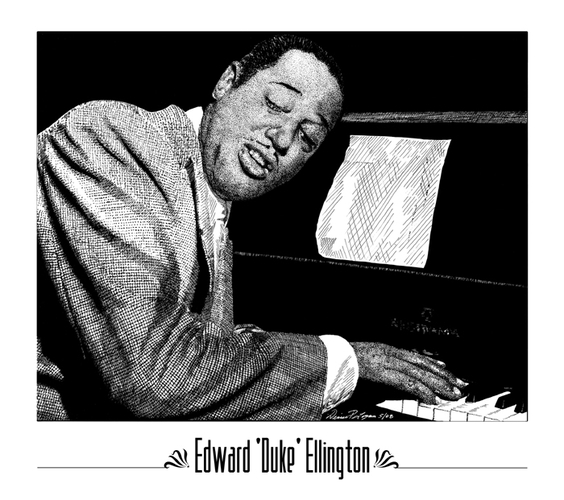 Graphic illustration was not even a part of Denise Logan's future career plans, while a student at Greece Arcadia High School. "I got kicked out of my high school's art class," laughs the Hampton University mass media graduate and artist with no formal training. "My teacher kicked me out of class because of my behavior in the class. I was trying to draw a portrait of a white person, but I wanted to be more connected with my African-American identity. So I tore up the drawing and started over again by drawing a portrait of a black person. The teacher sent me to the principal's office because he saw me rip up my paper."
After graduation, Logan moved to Chicago and earned her doctorate degree. However, she had something pulling her towards an arts career. "I had a drafting/light table in my apartment from Rochester and I drew a pen and ink illustration of musician Buddy Guy. It was challenging, but also a relief. I placed a lot of pressure on myself. I sat there -plotting my course so to see how far I could go...I was just working it out."
The next hurdle to overcome: learning how to put a portfolio together. Doing internship stints at Channels 31 and 21. "I remember the newspaper had a position for a graphic artist and I applied for it. They asked to see my portfolio and I had no idea what they were talking about. The lady explained it was a copy of all my work professionally bound. I told her that I didn't have one. She told me that they needed to see one.
"So I made a deal with a local print shop and agreed to work there free and in return they would let me have copies of all my printed work for them."
Her imagination and her graphics career started taking off. "Then the next portrait I did was of a saxophone player and then I decided to do a Jazz Quartet. Then I did Wynton Marsalis, but I never finished it. It sat on the my desk for six years and then I came home to Rochester when my mother became ill."
Logan took care of her mother and eventually had to hire additional help to address her mother's needs. Even though she was putting her mom's needs first, a comment made by her mom upset her so much that Logan found her way back to her art.
"When you create something, your creating from your mind. Your vision of your product is always your first love. However that vision may be clouded if you are commissioned and now have to adjust your piece to budget restrictions. It diverts your original concept."
Logan, who usually works during the afternoon and evening hours, is building her website. Her illustrations have included such artists as John Scofield, BB King, Dizzy Gillespie, Wayne Shorter, and Billie Holiday. "My art during that time became my way to manage my stress," she adds.
Currently, her work is on display at The French Quarter Cafe and The Iron Cafe on State Street. For more information, you can call her at 585-663-0104 or e-mail her at invisiondl@sbcglobal.net.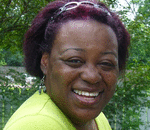 Posted By: Marsha Jones
Monday, March 1st 2010 at 4:32PM
You can also
click here to view all posts by this author...