What is God going to do to address these difficult economic conditions? If God has given you an idea, God already has done something. God gives His children ideas to develop that can result in the creation of wealth for individuals and communities. However, many of us have failed to act on the ideas. A main reason people do not pursue their God-given ideas is fear. People are afraid of making a mistake in the process because they do not know what to do. People are also afraid of seeking help because they do not know who they can trust to genuinely assist them. As a result of fear, many people do nothing with their ideas. As indicated in the parable of the talents (Matthew 25:14-30), fear is not an acceptable response when it comes to using the things that God gives us. Below are ten reasons to pursue your God-given ideas.
1. Expectation When God gives us something, God is investing resources in us. God expects a return on His investment.
2. Obligation When we receive a gift from God, we have a duty to be good stewards of that gift. This duty includes using the gift for God's intended purpose.
3. Participation When God chooses to reveal an idea to someone, God is inviting that person to participate in the His kingdom by developing that idea.
4. Jubilation Our pursuit demonstrates our faithfulness, obedience and an understanding of stewardship. These actions please God. Joy accompanies pleasing God.
5. Manifestation When we pursue God's ideas, we make real the blessings God has for us and others in that idea.
6. Deprivation Many times God blesses others through the ideas we receive. When we fail to develop the ideas, we can deprive others whom God wants to bless through the idea.
7. Inspiration When God gives you an idea, God has expressed a confidence that you can develop the idea and will be successful. This God confidence should inspire you to respond to God through developing the idea.
8. Maturation When you go through the process of developing an idea, God develops attributes of your spirit and intellect and you gain a better understanding of God. You also learn the process of developing an idea.
9. Declaration When God gives you an idea, God is saying to you, "This idea will work and I trust you to pursue it." This statement is a declaration that God has the power to make any idea a success.
10. Motivation Your pursuit will motivate others to pursue the ideas God has given them.
Darcell Walker is a practicing attorney specializing in matters related to Intellectual Property (i.e., patents, trademarks, trade secrets, copyrights and product licensing). He also conducts workshops on various topics related to developing and protecting ideas and inventions. Attorney Walker is also the author of two books in this area ("Godly Ideas" and "Divine Directions for Deliverance from Debt"). For more information, please Visit
www.godlyideasonline.com
and
www.youtube.com/user/godlyideas.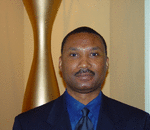 Posted By: Darcell Walker
Thursday, April 8th 2010 at 6:05PM
You can also
click here to view all posts by this author...