DuBois rejected Washington's willingness to avoid rocking the racial boat, calling instead for political power, insistence on civil rights, and the higher education of Negro youth. Booker T. Washington felt that by educating blacks, whites could rest easy, they could be sure in the future, as in the past, that their families will be surrounded by the most patient, faithful, law-abiding, and unresentful people that the world has seen. Assimilating and educating for making a docile, humble uncle tom is certainly an approach to success but is it the best approach.
As for blacks, Washington stated that "the wisest among my race understand that agitation on questions of social equality is the extremest folly, and that progress in the enjoyment of all the privileges that will come to us must be the result of severe and constant strug­gle rather than artificial forcing"
My take on this is that assimilationg should be used as a tactic or strategy rather than a goal. The progression for African Americans from seqregation to assimilation to separation makes more sense to true national power. Political power has strength but is best when based on land. Persons have less to say when they are hungry. Persons protest and march less then they have no food. Land provides the capacity to produce food allowing for political power to have teeth.
Black Americans coming out of the HBCU only to assimilate in white America so as to make vanish their differances should not be the "END". It should be from there to Separation to land, otherwise, you find yourself empty with valor, integrity and self dignity. To use people like they have used you thinking you are getting over when the people that used you have ALL THE LAND.......you are fooling yourself.
The point of HBCUs and continued funding challenged black colleges to either assimilate their graduates or risk looking funding from white foundations. Here we are in the 21st Century, and it is amazing that so many graduates of colleges believe they can graduate from America's colleges, assimilate into white society and then wait on Jesus or a magic mother ship for everything else. It is a foolish way to live and makes our people the laughing stock to the rest of the world.
My books goes over this assimilation methodology quite exhaustedly in my book, 21st Century Vision for Black America....www.trafford.com/06-2972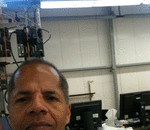 Posted By: jamal Abraham
Sunday, May 23rd 2010 at 12:59PM
You can also
click here to view all posts by this author...