Though disunited, jealous and superstitious Black Americans are by far the most talented and highly skilled of their race. If we have learned anything from history, it is that education coupled with experience creates power. Black Americans have worked at some of the most sophisticated multi-faceted Anglo-Saxon owned companies in America. Companies like IBM, Bendix, Microsoft, General Electric, Proctor & Gamble, Hunt, Ford Motor, General Motors, Chrysler, Rockwell International, Westinghouse, Pfizer, Kodak, Bayer, thousands of Hospitals, thousands of Banks, thousands of Colleges and Universities, thousands of Public Schools, AT&T, Honeywell, Sperry Unisys, Prisons and Special Institutions and so much more. It is for this reason that almighty God prepared me to make delivery plans for Black Americans of choice to set up a model society in Africa. To help in this effort, America is being plagued with unresolvable effects on the ecology in which you and I live. Now is the time for us to prepare to depart to a new world....a better world some place else. You say, shall we run............No.......Lets be smart about it.
Due to the HIV/AIDs virus, land is looking more plentiful. For the most part, Africa is underdeveloped. My divine plan is to provide "projects" to several African countries. In exchange for a modern electrical distribution system....they must give us x amount of acres of land. That land becomes our homeland and we set up a government thereafter. Dissimilar than the actions in Liberia or Sierre Leone...the people that we take are "skilled" and each has assigned tasks that they are responsible for. You see, a seat to departure carries " a seat of responsibility" ...It will discourage laziness and at the same time bring Black people back around to becoming more conscious about time>
Of course, there are schools operating in Africa. But, colleges are judged by what they produce in their graduates. The countries in Africa cannot even manufacture an airplane. But, they can produce a colorful Dashiki. What about an 4 pole electrical switch. All the resources to produce the switch, mine you, are found in Africa. No, can't even produce a switch. As a practicing engineer for over 25 years at companies top in their fields, with the guidance of the One God....are plan underway transitions 144,000 Black Americans to Tanzania, Morocco and Egypt...there are two others as explained in my book.
www.trafford.com/06-2972
21st Century Vision for Black America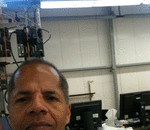 Posted By: jamal Abraham
Saturday, June 12th 2010 at 9:19AM
You can also
click here to view all posts by this author...