Love for Tomorrow (Second Chance at Love #2)
by Vanessa Miller
When Christian talk show host Serenity Williams's fiancé calls off their wedding because he can't deal with her popularity, she determines that she will never fall in love with another pride-filled, ego-driven pastor. Then, Serenity's producer asks her to interview the charismatic Pastor Phillip McKnight, who has recently gone through a divorce. Serenity feels that this is her chance to expose the arrogance of ego-filled pastors to the world. But Pastor Phillip is broken and humbled from his experiences, and the surprising humility of this man causes Serenity to want to un-break his heart. However, Serenity will need the Lord to fix her heart and change her mind about male preachers before she and Phillip can become all they were meant to be to each other.
About the Author
Vanessa Miller is a best-selling author, playwright, and motivational speaker. Her stage productions include Get You Some Business, Don't Turn Your Back on God, and Can't You Hear Them Crying. Vanessa self-published her first three books and, in 2006, signed a five-book deal with Urban Christian/Kensington. Her first book with Whitaker House, Yesterday's Promise, released in Spring 2010 and is the first book in the Second Chance at Love series. Vanessa holds a degree in organizational communication from Capital University in Columbus, Ohio. She is a dedicated Christian and a devoted mother who also serves in her church as an ordained exhorter. Vanessa lives in Dayton, Ohio.
ISBN-10: 1603742085
ISBN-13: 978-1603742085
Purchase your copy of Love for Tomorrow today!
http://www.amazon.com/Love-Tomorrow-Second-Chance/dp/1603742085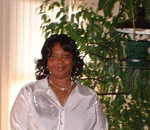 Posted By: EDC Creations
Friday, September 10th 2010 at 1:58PM
You can also
click here to view all posts by this author...