EMPOWERING SINGLE MOTHERS RAISING MALE CHILDREN
Intimate Conversation with author David Miller
Join me in welcoming David Miller, co-author of Raising Him Alone: Things Black Women Can do to Raise Black Boys to be Men.
"Many of the statistics on Black men and boys are painful and are often daunting. For example, the most recent report on graduation rates among African American males published by the Schott Foundation indicates that in many US cities African American males are dropping out at rates that exceed 65%. The Schott Foundation's report on the educational attainment of African American males paints a grim picture for our boys. Our efforts to work with mothers raising sons are designed to improve the academic and social success of boys through the resiliency and coping strategies of single mothers and grandmothers" states Mr. Miller. We are here today to discuss this topic, the Raising Him Alone Campaign and the companion book.
DAVID MILLER, Chief Visionary Officer and co-founder of the Urban Leadership Institute, LLC, will be featured at several events in the Nation's Capitol and across the country in support of his 2010 Raising Him Alone Campaign (RHAC).
MATTHEW P. STEVENS, the founder of Empower Today's Youth LLC located in Newark, New Jersey and co-founder of the campaign goes on to say, "It is highly unlikely that we will be able to dramatically reduce mis-education, misdiagnosis and incarceration of young Black males in America without serious interventions targeted toward fragmented families. The campaign goal is to repair families through engaging mothers who are raising boys!"
The Raising Him Alone Campaign (www.raisinghimalone.com) is designed to provide support and advocacy for single mothers raising boys and focuses on creating a safe space for single mothers to discuss parenting strategies, personal development, managing finances on a single income and a variety of other topics determined by single mothers.
BPM: Where are you from? How did you start your writing journey?
David Miller (Baltimore, MD) & Matt Stevens (Newark, NJ) we started writing books focused on uplifting families as a result of the alarming issues impacting boys of color. Whether its high school completion, rates of incarceration and homicides, African American and Latino males are negatively impacted.
We both have extensive backgrounds working with boys around alternatives to violence and making healthy decision. Much of our work has focused on increasing the captivity of schools, communities and other organizations to increase the life chances of boys of color.
BPM: Why was this book, Raising Him Alone, so important to create?
The epidemic rates of school failure and levels of incarceration have handicapped a few generations of young boys and men. Prison based capitalism, racism, poor educational opportunities, apathetic adults and the seduction of crime have left entire communities full of women raising children by themselves. Fatherlessness has become one of the most critical social issues that impacts communities. Many of the boys we work with are angry because of the lack of a meaningful relationship with their father. We believe that father absence is a leading cause of many of the pathologies which impact boys of color. Our focus is to improve the resiliency skills of mothers/grandmothers who are raising boys, establishing methods to reconnect fathers and connect the sons to useful life and survival skills information.
"It is highly unlikely that we will be able to challenge many of the obstacles that face young Black males without a serious reexamination of parental responsibility"
-- Quote from David Miller
BPM: How will your book and the campaign impact parent-child relationships?
Raising Him Alone (RHA) is dedicated to researching, designing, and implementing a campaign to support the social well being of single mothers raising boys. Through a series of intense community forums, workshops and support group initiatives, RHA seeks to increase access to resources in the areas of Health & Well Being (Mental Health), Educational Support & Advocacy, as well as Financial Literacy.
Our book, Raising Him Alone, provides mothers/grandmothers with concrete information and resources to improve the bond between mothers/grandmothers and sons. Each chapter provides information designed to support positive parenting strategies. For example teaching mothers/grandmothers ways to communicate more effectively with their son. The book and overall Raising Him Alone Campaign are designed to best practices for raising a male child. Many of our boys are growing up in communities where going to prison has become more acceptable than going to college. Through our "Learning Community" parents are able to get on-going resources and information about topics like navigating the special education system, talking to your son about s*x and other critical topics. This information is disseminated via Facebook (Single Mothers Raising Boys), bi-weekly eblast, motivational voice mail messages and community based workshops.
BPM: Ultimately, what do you want readers to gain from your book?
Practical ways for mothers/grandmothers to impact the lives of their sons through strengthening all aspects of the parent child relationship. Mothers/grandmothers play a pivotal role in the socialization of boys. It is important that mothers/grandmothers understand more about male development and ways to engage their sons around positive life style choices.
It is our hope that mothers/grandmothers will understand the seriousness of involving dad and other men in raising a healthy boy to become a man. Boys need to have access to sober & responsible men!
Additional the book is vital resources for supporting families as they struggle to cope with financial challenges, issues with mental health, educational options and navigating the community.
BPM: What is the most surprising thing you have learned from the community?
Mothers/grandmothers across the spectrum are struggling to raise their sons. The data around single parents raising children is alarming. Regardless of race & class many single women struggle to raise boys. Additionally, many married women are reading the book and contacting us through our Raising Him Alone web site (www.raisinghimalone.com). These mothers are also struggling to raise their sons. Many admit that their husbands are so consumed with work that parenting takes a back seat.
BPM: What would you say has been your most significant achievement with this book?
Being able to connect with mothers/grandmothers world wide. We are getting a lot of support from mothers in the United Kingdom, throughout the Caribbean and Africa. Regardless of geography parenting a male child can be difficult.
Additionally, being able to help mothers/grandmothers cope with their own issues which have prevented dad from being involved! We have been able to support a great deal of healing among families.
BPM: What advice would you give an older mother in supporting their teen?
Spend more time understanding the trends that impact your son (music, TV shows, technology etc.). The more you understand your son's reality the easy it is to be able to discuss sensitive topics like s*x & drugs. Get to know your son's friends inside and outside of school. Many times boys have multiple sets of friends. Stay involved in all aspects of your son's life!
BPM: Name three things that it takes to make a successful parent.
Realizing that as a parent you will make mistakes.
Willingness to be open and honest with your son.
Bold enough to monitor all aspects of your son's life (even if they get mad at you).
BPM: What can we expect from you in the future?
Greater on-line support and counsel for mothers/grandmothers. Expanding ways for mothers/grandmothers to get connected to the campaign. Our Facebook Group (Single Mothers Raising Boys) has allowed us to have some amazing dialogues with parents.
Additionally, we are working on a children's book focused on a dad coming home from prison.
The Campaign will be releasing Changingfatherhood.org a mega web designed to redefine the image of Black fathers. The web site will be the largest repository of resources and information for fathers in the U.S.
BPM: Share with us your latest news or upcoming book releases.
Just completed Where Mommy & Daddy a workbook for middle & high school age children who have an incarcerated parent. The workbook will be implemented by social workers, teachers and other youth development professionals who work with youth in small groups.
Hosting a Mother & Son Dance in Baltimore, MD on Sat, Oct 2, 2010 featuring Iylana Vanzant (Author) & Cassandra Mack (author). The Mother & Son Dance will also be replicated in Philadelphia in February of 2011 and a few other cities.
The campaign is sponsoring an essay contest for mothers. Mama on the Grind allows mothers to write a 450 word essay. Essay winners will win a reconditioned Dell Laptop.
Visit us at
www.raisinghimalone.com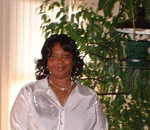 Posted By: EDC Creations
Friday, October 15th 2010 at 6:18PM
You can also
click here to view all posts by this author...