By overwhelming demand, "A Woman's Guide to Soulful Living: Seven Keys to Life and Work Success" author, Anita Davis DeFoe, Ph.D. will return as Joyce's special guest on Inspirational Voices Radio Show on Sunday, November 7, 2010 at 5pm EST. In addition, A. Renee Johnson, Ph.D. candidate, special call-in guest, will share her pearls of wisdom as to how to obtain financial freedom and empowerment.
Dr. Davis will discuss the following statistics that were uncovered in an article written by Terry Savage, A Sun-Times Columnist. It's entitled, "Harsh Statistics Should Propel Women To Plan Ahead." The article states the following:
"Women live longer, earn less, have fewer retirement assets, and suffer longer periods of debilitating illness in their old age. Many financial problems faced by women are created by divorce. Women make up 75 percent of the elderly poor today. Perhaps that's because one of every two women over 65 is divorced or widowed.
Another shocking statistic from the General Accounting Office is: 80 percent of women living in poverty were not poor before their husbands died. These women come from a generation that was not encouraged to learn about financial issues, and they had little opportunity to create economic independence."
Education, redirection, and a refocus on women's empowerment are vitally needed. Dr. Davis will focus on how to eliminate the disparities between males and females, and educated and uneducated women. She will explore how our self-image affects our ability to experience financial and emotional freedom. She will offer solutions to how women can balance the challenges of romance, marriage, children, career, healthy living, interpersonal relationships, and experience joy in their lives.
Join us on November 7, 2010 at 5pm EST, 2PM Pacific and help us come up with some solutions to this national tragedy! Listen live or through chat at
http://www.blogtalkradio.com/inspirational...
To share your inspirational voice, the call-in number is (347) 996-3292.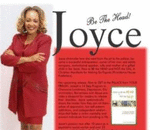 Posted By: C. Joyce Farrar-Rosemon
Sunday, November 7th 2010 at 4:44PM
You can also
click here to view all posts by this author...