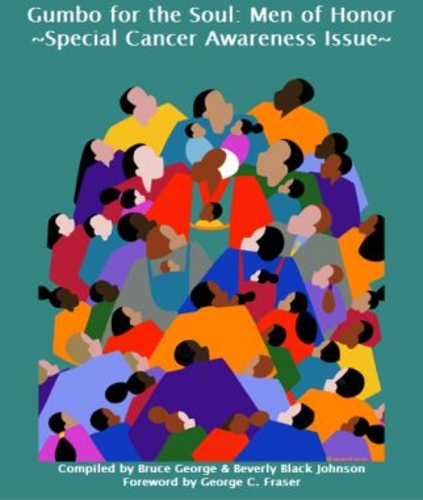 Gumbo for the Soul: Men of Honor ~Special Cancer Awareness Issue~
Deadline to submit extended thru March 1, 2011. Scroll down for submission details. In loving memory of Homer J. Black
Men of Honor reflects the stories woven into our legacy, carried by time and preserved with love. We will share with our readers your inspirational stories, quotes and poetry reflecting on the past and present times where your man of honor made a difference in your life. How has your life been impacted? How has your community benefitted?
Join us in celebrating the 'Men of Honor' impacting our lives with purpose. We want to salute Grandfathers, Godfathers, Fathers, Friends, Mentors, Uncles, Brothers, Nephews, Husbands and Boo's too!
This issue also focuses on the various cancers that affect men and was created to honor all men and especially those who have been affected by cancer. We want to encourage men to seek proper medical screenings which aids in early detection.
Project Fatherhood (sm) named beneficiary in the fourth of the Gumbo anthology series. "Project Fatherhood and Childrens Institute is excited about the possibilites of this new resource to heighten awareness. This consciousness raising will make a huge difference for generations to come and we're excited about being a part of it", Dr. Hershel Swinger -founder of Project Fatherhood.
Fathers are vital to a healthy childhood.
•Studies show that children without fathers are more likely to live in poverty, use drugs, drop out of school, develop emotional and behavioral problems, and be incarcerated.
•The presence of participating nurturing fathers has a profound impact on children's health and well-being.
To address the problem of absentee fathers, Childrens' Institute Inc. created Project Fatherhood (sm) in 1996 to re-engage low-income fathers, particularly in urban settings, in the care and upbringing of their children. Through therapy, support, parenting education and other services, fathers learn to be more loving, responsible parents and active participants in their children's lives.
Over his career, Dr. Hershel Swinger had long observed that fathers were most often left out of programs designed to strengthen troubled low-income urban families and prevent child abuse and neglect. But he firmly believed that fathers wanted what was best for their kids. To that end, he devised Project Fatherhood SM to give fathers the tools to participate actively in the rearing and well-being of their children. They report over 40% of America's households are families without fathers. Help change the statistics, make a difference and support the efforts of this book and Project Fatherhood(sm).
Project Fatherhood (sm)
FOR SUBMISSION GUIDELINES AND MORE INFO EMAIL:
Men-of-Honor-subscribe@yahoogroups.com or visit Men of Honor
Posted By: Beverly Johnson
Sunday, January 2nd 2011 at 12:03AM
You can also
click here to view all posts by this author...