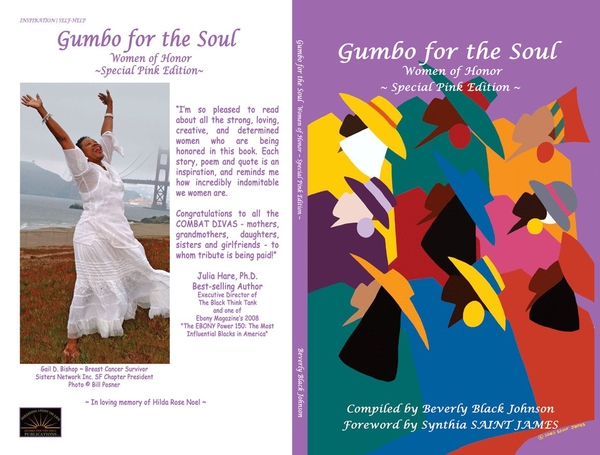 Gumbo's 3rd Installment ~ October 2010
Gumbo for the Soul: Women of Honor~ Special Pink Edition
~In loving memory of Hilda Rose Noel 09-19-1924 to 07-12-2007~
The books' back cover lovingly displays breast cancer survivor Gail D. Bishop who is also the president of Sister's Network Inc. | San Francisco Chapter.
Gumbo for the Soul: Women of Honor ~ Special Pink Edition ~ An anthology of savory literary offerings honoring women and supporting the fight against breast cancer.
Compiled by Beverly Black Johnson
Foreword and Cover design, 'Sisters of Courage' ęSynthia SAINT JAMES
~a Bruce George Media vision~
"I am utterly ecstatic to read about all of the strong, loving, creative, and determined women who are being honored in this book. Each story, poem and ..." Dr. Julia Hare. You'll see Dr. Hare's full heartfelt quote when you get the book! Dr. Julia Hare, a licensed clinical psychologist, is the National Executive Director of The Black Think Tank, headquartered in San Francisco, CA. In its May 2008 issue, EBONY Magazine named her among "The EBONY Power 150: The Most Influential Blacks in America." Prior to the Ebony Magazine recognition, Dr. Hare electrified Tavis Smiley's 2007 "State of the Black Union" conference, carried live on C-Span. Resulting YouTube video clips of her quickly chalked up more than a million hits on the Internet as viewers passed her eloquent tidbits around the world.
Visit us online:
http://www.gumboforthesoul.com
Proceeds benefit Sister's Network Inc. San Francisco Chapter, a non-profit African American Breast Cancer Survivorship Organization on behalf of Chapter President Gail D. Bishop-a breast cancer survivor.
Posted By: Beverly Johnson
Sunday, January 2nd 2011 at 12:26AM
You can also
click here to view all posts by this author...