Yesterday, I participated in a film screening and a panel discussion about the Underground Railroad called "Flight to Freedom" starring Cicely Tyson. In Upstate New York, where I live, my hometown of Rochester, was heavily involved in that movement. Harriet Tubman was one of the conductors and didn't lose one slave of the 300,000 she helped while taking them to freedom across the Canadian border. Going up north was the most popular way to access the Underground Railroad because of the wide North American border: there were so many entrance points.
What I discovered was that many people thought the Underground Railroad was strictly restricted to coming up north. It wasn't. The Railroad also went south to Mexico and the Caribbean. Years before I did research for my debut novel, Love Begins With Truth, about the slave trades and the Underground Railroad. As I explained to the audience: the slave trade was about money, money, money and harvesting crops to make more money.
In the West Indies, slaves came from around the world: China, Indian, Africa, Pakistan, etc to harvest sugar cane and bauxite crops to make the Dutch, the British and French nations wealthy. Those slaves shared a common purpose and history: to free themselves. They were all brought to the various islands as a source of cheap labor.
Not so in America. While the slaves were brought as cheap labor, other immigrants to the country came for other reasons. Some came willingly. A better life. More opportunity. Running away from their oppressors. It's an endless list.
The US slave trades involved more than 25 million Africans and probably 500,000 free men. Take into account that half of the 25 million were lost to the trades from the long passage. The slaves weren't feed or properly cared for and had to lay in their own "human waste and filth" on this long trip.
As I was doing more research, I noticed that US Census underestimated the numbers of slaves who escaped via help of the Underground Railroad as a way to discourage slaves from escaping and appease slaveholders. In 1850, the number of free slaves via the Railroad was reported at 30,000. Ten years earlier, it was 6,000. By 1870, the number had reached a million.
The horrors of slavery were depicted in the film. Families separated and sold, people lynched, the tree whippings on the backs of slaves, human beings burnt alive...yes, slave holders and oversees only saw us as property. I thought about Toni Morrison's, Beloved, and wondered if I could do what the mother in the story did. She killed her child because she didn't want that child to experience the horrors of slavery. White people thought she was crazy and looked at the mom as a savage. The mom killed her child out of love. How many people could do or would do that, I thought. In the inhumanity of slavery still scars our people today, but we must remember that not only did we help this country: we've done more to help it grow through our contributions. Don't forget that.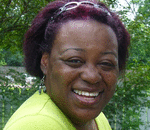 Posted By: Marsha Jones
Sunday, February 20th 2011 at 11:03AM
You can also
click here to view all posts by this author...