Black Girls Anthem, a choreopoem by Rochester-based playwright Melany Silas, is probably one of the most-talked about events in town, this spring. Tickets for the production, which will be at Geva's Next Stage Theatre from April 1-April 3, are $15 for students with ID and $20 for general admission and can be purchased on line at
www.blackgirlsanthem.com.
Show times are 2 and 7 p.m.
Silas, the oldest of six kids and an assistant professor in Health Studies at Monroe Community College, has been writing poetry as long as she can remember. Inspired by Ntozake Shange's For Colored Girls...., Melany decided to take poems she had written in the past, mix it with new stuff she created, and then consulted with local director Kate Washington. "I was at RAPA (Rochester Area Performing Arts) and Ntozake's show talked about her experiences and wanted to do the same thing. "I wanted the show's poems to weave together and paint a picture about love and life," continues Silas who is working on the
dissertation stage of her doctorate degree from Syracuse University.
"I wrote the poems back in 2006. Then I had my daughter, Nyah, who is now two. I stopped to raise my daughter. Then I decided
to return to the writing the choreography and when I was done, I contacted Geva. I thought the Next Stage would be a perfect spot
because it's an intimate setting and this production really speaks to people. It's a black woman's perspective that any woman
can relate to...it's a journey of legacy, triumphs, failures, and the strength of women."
Black Girls Anthem features 11 poems and one song in its two-hour run.The cast includes Katrina McFadden, Deborah Solomon, Degwanda (dedee) Gause, Natasha House, Melany Silas and Carlet Cleare. The show is recommended for children ages 13 and up. Silas, author of the poetry book, Spiritual Pieces: Poetry For Every Season Of Life, adds: "It's my most intimate work on stage to date. I'm honored to have this opportunity: I feel great. I'm proud of myself, but was scared out of my mind. There are people in this world who want to do something creatively and can't find the resources to do it. I worked with an awesome cast and a fantastic marketing team. My director (Washington) and the stage manager, Sheila Rankin captured my vision brilliantly."
A member of Delta Sigma Theta, Silas is one of the six actresses featured in the production, says this story belongs to everyone. "It's a human story and surprise: we are all human. When I write especially poetry: it's poetry for Nyah. It's a mom's wish for her child, I think. I'm just sharing my wish for her with the rest of the world."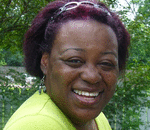 Posted By: Marsha Jones
Monday, March 21st 2011 at 10:42PM
You can also
click here to view all posts by this author...