A heart attack or a stroke can't stop people from changing their perception of you. People think they know what you can and can't do. They think that know all about you. I had to develop a thick skin quickly.
I'm used to people NOT liking me because I'm black. I never expected some people not to like me because I was temporarily disabled. That's a type of discrimination I had never experienced and I lost some friends because of it. My only crime here was getting sick.
The irony of my stroke was that I was a former athlete and was still active playing sports in my 40s. When I worked in corporate America, I participated in healthy eating programs, walked around during lunch hours and my neighborhood on weekends and weeknights, if I got home early, and managed a work-family balance. However, two things played a role in my stroke: stress and family history.
Let me address family history. Turns out women in my family who have had strokes-- died. I was the first one to survive. My docs attribute my athletic background to this. The men in our family who have had strokes all survived, but loss something in the process. Recently, my favorite uncle (on my mom's side) had one. He survived, but his mind is pretty much gone. I miss our talks now. It's like he doesn't know me anymore.
Stress...sigh. I've reduced that in my life. Got rid of the drama kings and queens in my life. False friends. Left a job that I didn't love and the "sophomoric people" I worked with who never played nice. I also ended my 12-year marriage to a spouse who thought caring for me and dealing with my "physical limitations" was too much for him. So much for the vow: "For sickness and in health."
I'm not bitter. I've had to put up with lazy people parking in handicap parking spaces, handicap accessible doors that don't work, people who don't look at their surroundings as they walk, and "rude" comments. I had to deal with a lacrosse player at my daughter's school, during registration, who made fun of her and said: " At least my mom can walk." Kids are so cruel. She was so embarrassed by my appearance and told me at a home game to "Stay in the car, so no one could see my brace." Talk about hurtful.
My situation is temporary. I've had friends (I never expected) draw closer to me. God and Mother Nature are taking their time healing me. Re-hab helps, too. I start getting deep muscle massages next month to "fix" some of the muscles. I don't apologize because I'm walking slower than normal. I'm happy that I'm here and still moving. But, I am taking notes. Taking names. Speaking up and out. Things have to change. I'm working on that.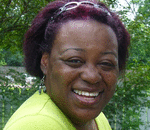 Posted By: Marsha Jones
Thursday, April 7th 2011 at 10:28PM
You can also
click here to view all posts by this author...