Hands down in my house, it is cleaning the toilet. Who wants to do that? Next comes putting away clothes after you have washed them. Then probably sorting socks. And finally what I affectionately call "double cleaning."
I'm still trying to understand why "kids" can't put back things the way they met them. Did you meet the comforter not folded on the couch? The glass was originally in the cabinet. It wasn't left out next to the couch. Most of you know how I feel about the naked toilet paper roll holder. Lawd, lawd, lawd. Is it really that hard to do?
That would probably one of the downsizes of being an adult. I care how my house looks. It is a reflection of me. To have some get a disoriented pictire of me NOT acceptable.
By nature, I'm a neat person. everything has its place. Repeat, EVERYTHING. I find it ironic when kids ask me where something is. My question is: 1) Where was the last place you had it? I usually get the shrugged shoulders response. I hate that. I advise them to retrace their steps. Keeping track of that stuff is NOT my responsibility.
As the weather warms up, I'm positive my worst chore list will change. I also my favorite chores to do will increase: planting a garden, reading, walking around the neighborhood and trying out new recipes. And then again, there may be chores, I do less. What chore do you hate?
I just have to keep everything in stride. Your dwelling is a reflection of you. Inside gives away your personality. As long as I am a home owner, I will always have a worst chore.I plan on being one for a while.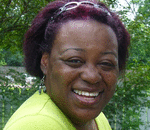 Posted By: Marsha Jones
Thursday, April 7th 2011 at 10:31PM
You can also
click here to view all posts by this author...