I'm straying a bit from my usual blog report. In Week 6, People need to know their limits. Don't get me wrong, I'm all for getting back into shape and being heart healthy, but don't over do. So if you haven't run a mile in 20 years, today is not the day to start. Build up to it. Check with your doctor first.
Overdoing comes in many forms. It includes over scheduling yours or family activities. Not getting enough sleep or rest in between activities. Failure to address your true health stamina and what your body consumes. Not facing the fact, that your body NOW has limitations.
I know I was guilty of one of these: over scheduling family activities. I am now a single mom of two girls: one of them is a teenager. Lacrosse season begins in the spring. I had my stroke in the winter and I now had to rely on family and friends for transportation not just for myself, but also my daughter. They now had to take my daughter to practices, games, and even to registration. I had to relinquish my sense of independence for a while. As the original Ms. Independent Woman...that was hard.
I still did what I could. I found myself either doing things in baby steps (literally), hiring someone to do it or asking for help. That's something I don't like to do. The "Black Superwoman Myth" wasn't working here. I was still trying to learn what medications to take, food I wasn't allowed to eat, portion sizes, and how to regain stamina and reach in my legs.
I finally gave in. I hired a cleaning service to clean my house, let a home service team cook for me, and continued re-hab wile a therapist showed me how to put on my leg brace and shoe with one hand. What sounds so simple wasn't for me because of a "shot" hamstring. These days it involves me using a wall corner for leg support. (You'd have to see it to believe me.)
These days, I know that I need six hours of sleep to be very productive. (If we have a busy day planned, the hours increase.) I'm usually up at 6 a.m. and help get kids off to school. I don't eat a heavy breakfast. Maybe a bowl of oatmeal or two slices of toasts with peanut butter or tea. I take my medications as well. Anything less than six hours and I limit what I do as far as driving a vehicle is concerned. And yes, I can drive and do with one hand. I mostly drive in the morning and do the majority of my writing work, cooking, and cleaning.
I remember a friend told me at my daughter's band recital that I would enjoy being able to do my own house cleaning one day. I looked at her like she was crazy. That was nearly a year ago. I complain some days about dusting, washing dishes, picking up kids clothes on the floor, and the mounds of laundry that seem to multiply in this house. The fact that I can do it now has made all the difference. Who knew she'd be right?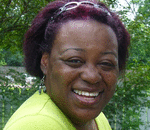 Posted By: Marsha Jones
Thursday, April 7th 2011 at 10:35PM
You can also
click here to view all posts by this author...