Ever since President Obama's announcement about the death of Osama bin Laden. I remained silent. I've heard stories about Navy Seals having a 40-minute celebration. It only took a few seconds to shoot him. There has been debates about whether his "kill" photos should be shown. Literally dancing in the streets. Bar room celebrations. Like it was a Super Bowl Championship or Stanley Cup Finals win. It's not even close. People, someone died. He took lives and lost his in a violent manner. Would you shower someone with beer at a funeral? Run down the aisle high-fiving the minister. What kind of message is that?
Even though, we got the bad guy: I think "We" look bad to the rest of the world. Death shouldn't be celebrated in such a manner.Death is an untimely event. It usually brings sadness and people come to celebrate the life. We are celebrating his death because it was payback and revenge. We are remembering the pain caused. If we celebrate him too much: we launch him int bad guy superstar status. That's what I think: I won't do that.
Let's not forget, why we even went to war with him. It was an event called 9/11. Ten years ago, I had just had a baby. Was going out of town, when I heard about the Twin Towers crash on the news. I thought the plane crash was a horrible accident: I was wrong along with everyone else.
Innocent women, children and men lost their lives 10 years ago. For what? Some were trying to overpower their hijackers on planes. Others tried to help those trapped underneath rubble. While others never saw it coming.
I have witnessed numerous stories about bin Laden's death. Wishes to have his "kill" photo shown. Fake photos are floating on the internet especially FB. The media is asking way too many confidential questions and actually expect answers. Everyone wants proof of his death. DNA is enough for me. I don't need gruesome photos. With no regard for the 9/11 survivors thoughts or feelings. This has to be a hard time for them. I don't need that etched in my memory for eternity.
And how do you explain his death to kids. Simple: I'm letting my kids bring it up. I refuse to give them unnecessary information. They need to stay kids. I will let them know that he was a bad guy that killed people on our soil on September 11. I will tell them you are NOT supposed to act that jubilantly at someone's funeral. I will tell them the US has been looking for him for 10 long years and a lot of military lives were loss in the process. And yes, I will emphasize that our President gave the order after finding him and getting rid of that kind of evil.
Whomever said: "Death be not proud." Knew what they were talking about. Too many people have painful scars.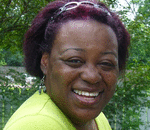 Posted By: Marsha Jones
Thursday, May 5th 2011 at 4:37PM
You can also
click here to view all posts by this author...