Just wondering what you are doing to spring clean your life? I'm getting rid of stuff I don't need like clothes. But, I'm taking time to also do somethings that I've put off or always wanted to do.
For starters, I've planted a garden. I put it off for eight years. For the past eight years, I've planted hanging baskets and hung flowers off my gate.I always made the front of my house look great. This year, I planted "simple" flowers like marigolds and tomato plants.
And I'm finally planted and found a lilac bush for my backyard. It occurred to me that my present home has no lilac bush and everywhere I've lived, I'm used to seeing one. So I made that change.
I also decided that I would see a few more sunsets and sunrises with my children or by myself. My youngest turns 11 this week and my oldest will be 15 in the fall. I need to spend more time with them; time is passing us by. The other spring cleaning promises I made to myself:
1) Buy more flowers and bring them indoors.
2) Read more this summer at least 2-3 books a month.
3) Get out and walk more.
4) Listen to more music.
5) I finished my play....finally. Now on to my book.
6) Take each daughter on a weekend getaway even if it means renting a hotel room.
7) Join the two organizations I always wanted to, but delayed for whatever reason.
8) Treat myself to something small. As hard as I've worked, I really need to.
9) Volunteer a little more. I've done a lot, but a little more never hurts.
10 ) Spend more time with girlfriends and visit vintage friends.
11) Go to the movies.
12) Hot air balloon ride and Maid of the Mist ride.
Let my Spring adventure begin!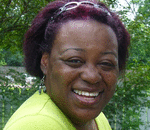 Posted By: Marsha Jones
Thursday, May 5th 2011 at 4:49PM
You can also
click here to view all posts by this author...