Eleven years ago this week, I became a mother for the second and final time. It was the week of Mother's Day. I had another daughter and became a mom again. (Her birthday was yesterday.) After a brief stay in the hospital, I took my daughter home and our family dynamic changed. I spent Mother's Day at home with my baby recovering and enjoying the warm temperatures. I had the "pleasure" of helping my oldest adjust to life as a "big" sister and making sure she was part of her sister's life.
Happy Mother's Day to first-time moms. Veteran moms. Women who took in family members or foster children. Grandmothers raising children. Women who are raising children who are missing a female presence in their lives. And women who are raking care of sick or ill children. I salute you all.
I can't believe how fast time has moved on. Being a mom is really the only time I have stepped away from The Challenger. I love to write, but balancing that with my young family at times was a big balancing act. My oldest didn't like me not paying attention. These days, my writing isn't an issue. The girls now respect my 4-1-1 writing rules, telephone interviews, and coming with me when I do music reviews or stories. And they have become fans of theatre much to their mom's delight. My youngest is a history buff so anything to do with black history...she enjoys and has lots of questions.
There are some days, I don't feel like I am a mom. I can't believe I am a mom. Until I hear those words uttered out of my children's mouths: "Mom." My daughters mark my mortality on this planet. They now talk. Express their opinions. Their likes and dislikes. They cook meals. Do laundry. I miss the days when they cooed and smiled. Tried walking standing up. Life was a lot quieter then.
I know I'm not in college anymore. I also know their toys are now more expensive. As their mother, I encourage their education, their community service, and their creativity. I remind them what it means to be a young black woman in the world and that beauty comes in all forms -- not just blonde hair and blue eyes. I instill pride, self love and self-worth into their lives. My daughters are black princesses and demand respect. They are strong, educated girls who are capable of anything. As their mother, I try to set a good example of what they could possibly do and become. As their mother, I have to teach them how to take care of themselves because they may not marry.
Those sleepless nights. Those handmade gifts of love. Redeemable "kids" coupons.The hugs. The memories of daughters running toward me because they were happy to see me after a long day of daycare.. Recitals. Concerts. Games. Ice cream runs. I wouldn't trade these memories for the world. In a few years, I look forward to high school and college graduations. Weddings.
Mother's Day was Sunday. Being a mom is a 24-7 job. The pay isn't the greatest. The hours aren't steady. Yet, it's a job most women will do anything to have. Some women go as far as bed rest, adoption, or foster care. The day reminded me of what my mom did for me.
First Lady Michelle Obama took a lot of heat for considering herself the first Mom-in-Chief. I have a better idea of my mother's journey on this Earth. I also have so much more respect for women who willing take on this role. It takes a very giving woman to raise a child and put her needs on the back burner.
I can't wait for Sunday to get here. Don't know what we'll do, but I just know whatever it is: I'll love it.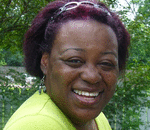 Posted By: Marsha Jones
Thursday, May 5th 2011 at 4:55PM
You can also
click here to view all posts by this author...