OK. I was a bit excited about the Royal Wedding. I refused to get up for it at 4 a.m. The beauty of having 24-7 news coverage is that I can wake up at a normal time and see the things I wanted to see. The vows, Kate' dress, the kiss, the hats, and what the wedding party wore. Princess Beatrice's hat was just dreadful. And why was Pippa in white?
I don't know why we Americans were caught up in the fairytale event. Some blame home. Some blame the love at first sight theory. I wish the media would provide a more balanced coverage. I would love to see them capture the marriage of a black royal couple. Yes. We do have them. Just when will the media ever show one.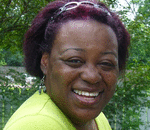 Posted By: Marsha Jones
Thursday, May 5th 2011 at 5:01PM
You can also
click here to view all posts by this author...