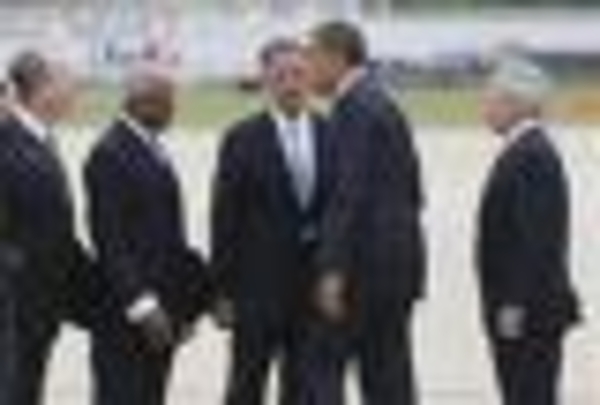 HOMETOWN MEMPHIS LIL EXTRA!
"THANKS FOR INSPIRING ME!!
[Photo: Mayor Wharton and MCS Officials welcoming the President to Memphis]
You've made it inside
Hometown Lil Extra!
WELCOME...
This story is inspired from...
Words of President Barack Obama!
"THANKS FOR INSPIRING ME!"
Memphis, Tennessee
May 16, 2011
President Obama was guest speaker at the BTW High School Commencement Exercise Ceremony at the Cook Convention Center less than an hour before writing this story. The President shared the stage with the Principal, MCS School Director, and with the school's honor student and valedictorian. All speeches were full of inspiration and with encouraging words which was received not only by the graduating class of 2011, but also watched by ten of thousands of local as well as national televiewrs. All whom shared in the history making moments of Memphis had ears attached and eyes glued to an history making era for Memphis. Memphis was honored to have the Presidential visit and this has implanted another positive feedback and outlook on a once dubbed "worst places to live" by Forbes Magazine-- because of the last recent years of crime and violence. With highlights of Memphis making national news the City of Memphis and it's people are feeling a new wave of confidence and celebration having the Chief Administrative Office of the United States come to our city. The graduating students each got a handshake from the President and were absolutely thrilled with each moment of this jovial happening. With a school's thanks the student body clapped hands three times and shouted out " We are one!!!" The President last words of his speech echoed in many minds of the young and old saying: "Thanks for inspiring me!"
Making more history...
"The truth is, not a single one of the graduates here today has had it easy," --Barack Obama
Memphis, TN May 16, 2011
This Hometown Lil Extra! was written by
MIISRAEL
Hometown Memphis, Tennessee
MY MESSAGE TO YOU: "Thanks for inspiring me."
MESSAGE SENT: GOODBYE
Posted By: MIISRAEL Bride
Monday, May 16th 2011 at 3:22PM
You can also
click here to view all posts by this author...