Yes, I am. At least for another four hours. My daughters are at a lacrosse slumber party over the Memorial Day holiday weekend with a teammate. They have been looking forward to this for two weeks. So have I.
My youngest child was worried about me being at home by myself. She felt bad for me. Thought I would be too lonely. She was wrong. I couldn't wait to have "free time." If she only knew how much I WANT them to leave. lol Being kid-less for four hours: YES. It's a mom's dream.
I love my children, but people need to understand that "mommies" need alone time. It should be in our contract; if we had one. We do everything for everyone else and put ourselves last on the list. I'm trying to change that in my house. The first thing we moms do: catch up on sleep. I don't know about you, but I need my battery recharged. This is the time of year that school's are fitting every last activity in. Next week, I have band and chorus concerts, lacrosse practice and games, honor and award ceremonies for me and my daughter, a college program dinner for my teenager, column, poetry, and monologue deadlines and the rest of the yard work to do. See why I'm tired now.
Trying to shop for yourself with kids around is nearly impossible. Moms, you know what I mean. To shop for yourself, you need to go alone. Some child always demands you buy something for them that wasn't part of your original list. They don't want to understand your "adult" answer, but you stick with it and have to bear the complaints. Oy vie.
The school year will be done in four weeks and with them at home, I know my work schedule will change. I've scheduled activities with kids and one of them is a week-long summer camp that is an hour from home for my teenager. There are day trips in our summer, too. I'll now have to "share" computer time with my kids. Shaking my head. The girls will be busy.
During the last 24 hours, I ate food without a "little hand" headed toward my plate.I talked uninterrupted on the phone, put something down on my table and returned to find it still there. Filled up the water pitchers in the refrigerator and they were still full. No spills to clean up. No dirty cups or plates to move to the sink. The best part? My house was quiet. Happy SIGH. :)
They'll be back in a few hours, so I'm catching up on writing assignments in the morning and then I pampering myself to a relaxing shower, a hearty meal, and enjoying the birds chirping outside my window. Our time away from each other was good and I miss them, but mommy needed a break. Glad I got one.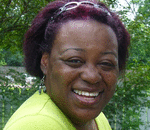 Posted By: Marsha Jones
Monday, May 30th 2011 at 12:06PM
You can also
click here to view all posts by this author...