It was called "Decoration Day" to honor those who had died or were injured in service to their country and medals were bestowed to them or family members. Parades and award ceremonies were a way of saluting them. Did you know that?
I stress that fact because too many people forget why we celebrate this day. It's not about a day off from work or heading to a bar-b-que. We have so many "freedoms" that people take for granted. I know I forget that everyone doesn't have freedom of speech or religion. Those are freedoms, I enjoy. I don't have to worry about police standing in front of my church questioning or even arresting me because of my beliefs.
As a writer freedom of speech means even more to me. I am able to challenge ideas or policies in the written word. No harm comes to me. I can share true experiences or life stories to help people learn and heal. We can discuss these ideas in an open forum. There are those who "HATE" rap music, but because of our freedoms it exists. You can't be punished for listening to it.
Today, you need to think about those who sacrificed their lives, so you can live the way you live. America isn't perfect. However, there were those willing to have us NOT live in fear. For that I thank and salute you.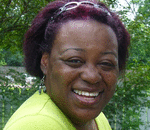 Posted By: Marsha Jones
Monday, May 30th 2011 at 12:11PM
You can also
click here to view all posts by this author...