Woo-Hoo. Last night, as I cleaned my house, I heard songs by Stevie Wonder The Temptations, The Jackson Five, Prince, EWF, and Bob Marley. A couple hours later, my house was filled up by Aretha Franklin, Sister Sledge, Jill Scott, Erika Badu, Sade, Etta James, Anita Baker, Wynton Marsalis, and The Boys Choir of Harlem. I couldn't lose. I grew up doing housework this way.
Good music is just that. It defies time. Its essence is everywhere. I'm happy June is designated Black Music Month. I'm a fan of old school music. That music had harmonies, great lyrics, and the messages were deep. Sometimes, the songs called for change. Other times, the songs were well-crafted poems or amazing stories. Then there were songs of celebration, love, hope, isolation, wishes and dreams. With the recent death of singer and poet Gil Scott Heron, I think we need to ask ourselves: Why Aren't There More Gil Scott Heron's? Where are they?
I like to think that they STILL exist, just someone has to discover them. Music may have changed in terms of its marketing and distribution. However, there will ALWAYS be a market for GOOD music. Raphael Saadiq, Cameo, Jimmie Highsmith, Calton Wilcox Live, Bessie Smith, Black August and so many others to discover.
Use this month to visit and listen to our rich cultural collection. I plan on listening to more jazz this month.I want to applaud our local community station RCTV Channel 15 for its Black Music Month event that featured all genres of music. The rain tried to spoil the celebration, but it lost. Must be the music. Let's keep it comin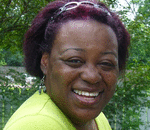 Posted By: Marsha Jones
Sunday, June 5th 2011 at 9:49PM
You can also
click here to view all posts by this author...