Every time Sarah Palin opens her mouth, something stupid comes out of it. I wish men could stop looking at her long enough to really listen to what she's saying. There's a disconnect. This week's infraction: Paul Revere and the phrase "The British are coming. The British are coming."
Most of us educated in American high schools know that Revere's comment was a warning to the COLONISTS that the British were on their way and they would have to fight to preserve their dream.
Palin put a different "spin" on it. She believes it was the Americans warning the Brits that more Brits were coming, but they were BAD Brits. Huh? I'm lost.
Yet, people think she would make a better President than Obama. Palin is the same woman who claimed she could see Russia from her house and lied to the American public about her "illegitimate" grandchild and criticized the media. From where I sit, she is no better than former Presidential contender John Edwards. see a pattern, there?
I need a President, I can trust. Thank goodness President Obama is in charge. Palin gets an "F" for world history. She also gets an "F-" for English and Creative Writing. I wonder if she could name all 50 states on a US map. Our President should be a world leader and respected. If Palin is elected, taking a deep breath and shaking my head. I don't even like thinking about it.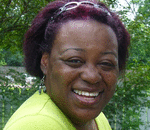 Posted By: Marsha Jones
Tuesday, June 7th 2011 at 12:05PM
You can also
click here to view all posts by this author...