In nine days, I'm going through a rite of passage of sorts with my baby. Peyton's been transitioning to middle school. I've heard about her new buddy, who serves as her guide; her field trip to her new school, the map of the new school, meeting with her guidance counselor, and the Parent Orientation on September 1. She's complained about getting her new lock open and the fact that she has to physically go to her classes rather than vice versa. I went through this four years ago with my teenager.
I love her soon-to-be old school. Lucky for me, her new school knows me. Peyton came home and told me that her assistant principal told her to tell me "Hi!" When my now teenager was there, I was a fixture at her school. Games, meetings, parent-teacher conferences, dances, things forgotten by my child, spirit wear purchases. They knew me.
The last part of the transition that will be hardest for both of us is the class annual trip to Sea Breeze, an amusement park in my hometown. This is something she looks forward to every year (I go as her chaperone and we spend time together) and Peyton doesn't want to give this up. Give it up; she must. She is becoming a bigger kid. And this part of childhood must go, too.
She's trying to figure out a way to make this tradition continue. Peyton thought about starting a new tradition for sixth graders: a Welcome to Sea Breeze Celebration. I don't think so. The administrators have other plans.
I'll be counting down the days and then watching her ride rides with her classmates, hitting the wave pool with friends, and trying to use "me" as an excuse as to why she's not riding the high, fast rides. "I don't want to leave my mom alone," she told her best friend. As if.
I'll drive my car there and meet her at the gate like I always do. We'll walk around the park with her friends. We'll talk. I'll hold little purses and tickets in my bag, as they decide what rides to go on. I'll think about her first day at this school and be reminded that this is her last. No more homemade gifts or Room Mom parties at school. Mom kisses are at a premium. Wow! Look at how she and her friends have grown. They don't stay little forever.
Eight days and counting.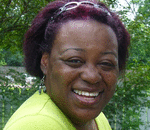 Posted By: Marsha Jones
Tuesday, June 7th 2011 at 12:11PM
You can also
click here to view all posts by this author...