I'm not watching. I refuse. Why? This is worse than any train wreck I would ever expect to see.
This is the story of the mother who waited 30 days to report her daughter missing. First she said the nanny had her and later changed her story to say her daughter was kidnapped. Finally, the mom admitted her daughter supposedly drowned in the family pool and her dad helped her cover up the crime. Basically, she killed her daughter on purpose. It seems like a simple case, but my question is why weren't the police called? Something stinks here.
The fact that this young woman shows no remorse, while her parents confirmed that the child died in Anthony's home just scares me. The defense lawyer has turned an innocent child's death into a three-ring circus. He is diverting attention away from the child's mother to her grandfather and putting it into the jury's mind that grand dad was a child molester.
Basically, I'm tired of all the speculation. I'm tired of the soundbites. The crying faces and the finger pointing. Can we let Cali rest in peace and move on? No family should ever suffer like this.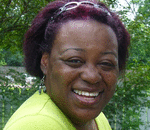 Posted By: Marsha Jones
Tuesday, June 7th 2011 at 12:25PM
You can also
click here to view all posts by this author...