...will be hot in a few hours. We're looking at another heatwave and temperatures in the 90s. I for one will be staying cool in side my air conditioned home. I don't know how you keep cool but:
* Stay hydrated.
* It's OK to eat more ice cream or popsicles.
* Wear light clothing.
* Find a cool spot or shade.
* Don't eat heavy meals. Stick with salads or lighter meals.
* If you are on medication, still take it.
* Relax and don't do heavy work.
* And if you don't feel well, get help.
Better safe then sorry!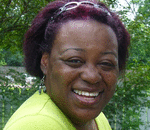 Posted By: Marsha Jones
Tuesday, June 7th 2011 at 12:34PM
You can also
click here to view all posts by this author...