Seventy headstones at the Mt. Hope Cemetery were vandalized last night in my hometown of Rochester, New York. Some of them are so damaged that can't be repaired. The remains of loved ones who passed away were supposed to spend an eternity in peace. Their descendants went through the trouble of making sure final wishes were carried out. My question: Why would someone do this?
In Rochester, Mt. Hope Cemetery and the final resting place for many of Rochester's prominent citizens. The remains of North Star editor and abolitionist Frederick Douglass, Suffragist Susan B. Anthony among others. The cemetery is beautiful and you can really find out our city's rich history.
Since this crime happened, our community is outraged.
Destroying a final resting place? That's like breaking a commandment. There are things you're taught NOT to do as a child. This is one of them that goes unsaid. It's like stealing the collection plate out of a church. Or taking coins out of a wishing well. YOU don't do it.
I suspect teenagers and frankly, their mamas didn't raise them right. What's wrong with people? Seriously. One of my girlfriends was brought to tears when she heard the news. All I know is someone is going to pay. Doesn't matter if you are religious or not. I'm a strong believer in karma. What goes around comes around. It always does.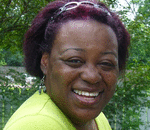 Posted By: Marsha Jones
Tuesday, June 7th 2011 at 12:48PM
You can also
click here to view all posts by this author...