Who is Huma Abdein ? She is the wife of Congressman Anthony Weiner who recently he had an inappropriate relationships with six women through texting. She is NOT standing by her man. At his press conference confession, his bride of eight months and aide to Hillary Rodham-Clinton was no where to be found. Today, she was back on the hill.
He wooed his Muslim bride and her family for two years; she married him, believed in him, and now he betrayed her. But she's moving on. She follows in a long line of recent wives Maria Shriver and Silva Spitzer who have been publically betrayed and humiliated. We can't turn anywhere these days and not here a similar story.
The ironic part is that he was lying to us all last week when asked about the Twitter story. Sound familar? Can you say John Edwards? He did it on purpose and now he's sorry. He refuses to resign. I don't know what his political future holds and neither does he.
We all have to endure House Ethics Committee investigations, their findings, and a slew of more embarrassing questions. The fact that he is insisting that he didn't commit any crimes, but committed "inappropriate behavior" annoys me. Picking your nose in public is "inappropriate behavior." You know you're not supposed to do that. He was "s*xting" six women. He knew what he was doing.
Why he did it? Danger and excitement. The power of the office. We'll never know. But, he deliberately "lied" to us. That's not something people forget. His wife did nothing to us. Wonder how her family feels about their son-in-law now? I have a girlfriend who heard this news and was thankful she's gay. The congressman acted like a jerk. This kind of betrayal will ultimately be his downfall.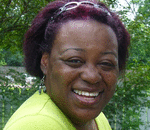 Posted By: Marsha Jones
Tuesday, June 7th 2011 at 12:57PM
You can also
click here to view all posts by this author...