Our creativity is consistent with Godís character and is a means through which God desires to implement Godís kingdom plans on earth. A major source of creativity is ministry activities in local churches and other religious organizations. Ministry areas where creativity occurs include: 1) praise and worship, 2) education, 3) events, 4) mass media and 5) consumer products and services.
There are several reasons why ministries should consider intellectual property protection for their creativity. One main reason to seek formal protection for creative works is to ensure oneís own ability to use the created work without interference from others. Another reason for pursuing protection is to control all uses of a work by others to ensure proper use of the work and prevent misuse or unauthorized use. A third reason is that many creative works generate revenue (ministry works can become commercial products). Protection of a creative work helps a ministry maximize the revenue-generating potential of that work.
Creativity can be a critical part of branding a ministry and distinguishing that ministry from other ministries. In addition, some ministry activities grow to the point that they will become viable businesses and provide products to consumers. For some churches, a table in the fellowship hall where Bibles are sold after service has grown into a full-functioning book store selling books and a variety of other products.
Although patents, copyrights and trademarks are routinely used to protect creativity, one may conclude that most ministries do not even consider formal intellectual property protection for their creative works. With regards to music, most churches and religious organizations do understand the need to protect these types of works. However, many ministries do not practice this same degree of prudence with other types of creative works.
Creativity in ministry activities is similar to creativity in companies or other organizations. As a result, ministries should implement prudent business practices to ensure the protection and use of their own creativity and to avoid unauthorized use of the creative works of others.
What is your church doing to protect its creative works?
To hear more from Attorney Darcell Walker please visit
www.youtube.com/iser/godlyideas.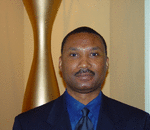 Posted By: Darcell Walker
Friday, February 17th 2012 at 1:52PM
You can also
click here to view all posts by this author...