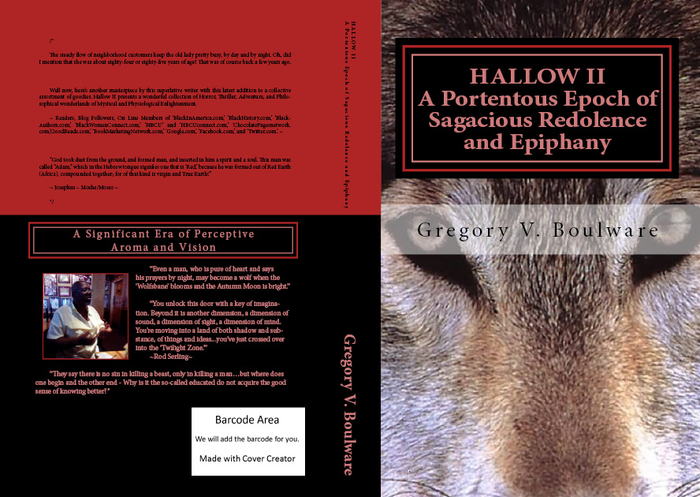 'The Report of Sagacity and Mysterious Redolence'
By
Gregory V. Boulware
http://boulwareenterprises.com/-_A_Portentous_Epoch_~.html
~ An Epiphany? ~
/*
'The Catharsis Table'
(An excerpt):
"Many of us, the guys, would come in and just say hey to Ronald and the dogs if they were close by. Sometimes we would get our drinks and join him in the living room in front of the 42' inch T.V. The discussions varied upon which program did or said whatever as we passed a joint or two.
The targeted seating was around the table in the tiny dining room. Five chairs, four around the table, and one off to the side in front of one of the refrigerator units. The refrigerators, old as they may be, kept the beer cold. The six packs sold very quickly. The sixteen-ounce cans did better than the twelve-ounce cans. Sometimes the 'Olde-E' sold better than the 'Bud' and vice-versa. The brown liquor and the white, was kept in the bottom of the buffet server while the extras went to the bottom of a storage cabinet.
Everyone came in and competed for one of the seats at the table. I've always preferred the one on the opposite side of the entranceway, against the..."
https://www.createspace.com/5822620
Just the other day, I was watching the political pundits throw rocks, bottles, and stones at one another. The silliness of their madness caused me to ponder over the dogma of the "he said – she said" rhetoric. I wondered why someone…anyone would back a candidate who blatantly tells you that he or she is going to take away your lifelong financial lifeline – namely, Social Security. Many working class people look forward to that safety net to help balance and/or alleviate the financial burdens of growing older (55 yrs. or more).
Watching, listening, and remembering all of the things that actually matter in this aging process. One would have you believe that aging is an honor, while on the other hand, a burden on society - the burden being money. How are we going to feed and care for the elderly? Do we do a bamboozling act on them by implementing the "Logan's Run" theory? It might be easier on society's coffers to eliminate the aging person by zapping them into oblivion at age 30 and convincing them to believe they are actually going receive a rejuvenation of life. The process would practically eradicate government money dilemmas.
Never mind the money collected from so-called ordinary working people – it is not (the governments or the politicians) theirs in the first place – it belongs to the working citizen who made the mandatory donation! So why is it that the average person is burdened with the responsibility to prove when, why, and for what reason they need to access that money – which belongs to them in the first place? Why does the politicians and government have the final say over which American Worker deserves access to the benefit? Is it ok for the government and politicians to gamble with and/or invest your money whenever or wherever they wish – whether you approve or not? When have they asked for our opinion or permission?
Who is it that actually runs this initially intended Anglo-Protestant-Hippocratic-Puritan society of government (i.e., "We The People," which people?) working's that's riddled with corruption, racism, envy, hatred, oppression and suppression? Are they truly manipulated puppets of evil intent? How many of us remember that Satan was despised and cast out from Heaven? Do you remember what he supposedly said and vowed to do? You may recall the infamous line – "It is better to rule in hell than to serve in heaven?" He made no bones about his hatred for mankind. He vowed to kill or destroy every man, woman, and child of humanity – "all of them by any means necessary!"
While he usually or never has a direct physical contact with the masses, others are at the behest of his directives and desire.
Speaking of certain, albeit, limited, coincidences, understand that we, Mr. 'Eddie' Poe and I, the Editor / Publisher, choose to speak of this topic. In my own heart, I cannot speak of his; there dwells no faith in the praetor nature. In past and probably, future conversations, men will debate the issue of the original intentions of God's Laws. They may dispute that nature and its God are two. The latter creating the former can, at will, control and/or modify it. Would you not agree, my friend? The insanity of logic has, of course, assumed it is not that the Deity cannot modify his laws, the question is of will. Does man insult God with the imagination of a possible necessity for modification? Mr. Poe espouses the origin of these laws were fashioned to embrace all and every contingency which could lie in the future. All that one would need to do is to pay the strictest and closes attention with unwavering indulgences.
This topic is only referred to as coincidences. It was submitted for my review as 'Bowery of the Crimson Frock and Flesh - The Poe Report.'
We expected to be awakened by the charms of harmonious chatter and laughter. We looked forward to the sensual arousal of breakfast aromas dazzling our every sense to complement the happiness of the nostrils. It did not occur.
We were abruptly awakened by two burly New York City Cops. They were not smiling while we twitched and ***ed about; tossing and turning in our beds.
Abberline was standing in a pool of blood. His gloved hands dripped twelve-hour-old gore. The right hand held a freshly lit cigarette… His face was ghostly white; bloodless.
http://boweryofthecrimsonfrockandflesh.blogspot.com/2014/05/bowery-of-crimson-frock-and-flesh.html
What we are attempting to convey, should be seen as a situation between fate and an unhappy young lady, known to many as Miss Mary Cecilia Rogers and the coincidental cross reference of a Miss Marie Roget along with the portentous examination of Miss Mary Kelly. Other victims in this narrative include a Mademoiselle L'Espanaye along with her mother, at a certain epoch in their history, therein existed in a paralleled contemplation of exactitude. In proceeding, the display of this sad tale, and in tracing the mystery, which enshrouded the two, it is our design to hint at the extension of this parallel happenstance.
Adopted in Paris, the suggestion of the discovery of an assassin are founded in any similarity could quite possibly, produce a very similar result.
Lord Charles Alexander Duprae lived in Paris, France from May through September during the turn of the 18th century. This young man was considered to be a gentleman. Indeed, he was of an illustrious family. A variety of events have reduced their financial status to poverty. His creditors allowed him every courtesy. He never showed any energy towards the retrieval of his fortunes. He managed on a meager income from the family estate and a rigorous economy. Duprae was able to procure the necessities of life without too much trouble. His sole luxury was books. In Paris, these were readily obtainable.
http://blackinamerica.com/content/286940/a-significant-era-of-perceptive-aroma-and-vision
http://www.amazon.com/Gregory-V.-Boulware/e/B00OI16PDI/ref=ntt_dp_epwbk_0
*/
HALLOW II - A Portentous Epoch of Sagacious Redolence and Epiphany
by
Mr. Gregory V Boulware
https://boulwareenterprises.wordpress.com/2015/10/29/a-significant-era-of-perceptive-aroma-and-vision/
5.5" x 8.5" (13.97 x 21.59 cm)
Full Color on White paper
466 pages
ISBN-13: 978-1518770227
ISBN-10: 1518770223
BISAC: Body, Mind & Spirit / Shamanism
http://www.amazon.com/s/ref=nb_sb_noss?url=search-alias=stripbooks&field-keywords=Gregory+V.+Boulware+&rh=n%3A283155%2Ck%3AGregory+V.+Boulware
http://www.BoulwareEnterprises.com
and
http://www.CreateSpace.com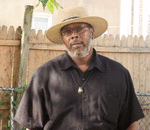 Posted By: Gregory Boulware, Esq.
Sunday, December 13th 2015 at 9:44PM
You can also
click here to view all posts by this author...