#BUZZZINOFFAwards
Lutonya M Lang & IndustryBuzzZ.com Media Presents:
6th Annual Black & White Ball and BuzzZinOFF Awards
IndustryBuzzZ.com Media Vision:
The vision is to train, mentor and employ our youth year around with jobs in media. This annual Black & White Extravaganza helps us introduce our youth to people who took a bad situation and changed their lives and others.
Event Host:
Edward Williams III (Comedian & Actor)
Jameila Amor (Model & Actress)
BuzzZinOFF Awards Red Carpet Host
Simeon Henderson of The U
I am Inspired to #BEECome because YOU #BEECame:
Making A Difference Spotlight: Honoree Lucretia Payne owner of Aunt Cretia Daycare. Aunt Cretia Daycare Center works hard in the community to provide high quality, safe, affordable daycare services for low income families.
Meet Our Community Heroes:
Honoree Ja'Mal Green (Singer-songwriter, ghostwriter, author, entertainer, CEO, Activist)
Honoree Carl West (MidWest Gap)
Honoree Dr. Kenya Thomas (Medicine)
Honoree Spencer & Henrietta Leak (Leak & Sons Funeral Home)
Honoree Sterling Bolden (Assistant Principal Simeon Career Academy)
Honorees Troy and Shenee' "Nay" Edwards (CEO and President of 3HP Records, Managing Director of Amen Gospel /Universal Records and the DMV Christian Music Awards)
Honoree Nikki Burnett (Basketball Mom & HoopLyfe Apparel, Real Estate Broker, Leading Ladies of Chicago)
Honoree Aaja Corinne Magee (She's In Color & Aaja Corinne The Brand)
Honoree Dr. Richard D. Harris (Pastor of New Mt. Zion Church)
Honoree Tia Nance-Dantzler (Beauty Expert & Makeup Artist to the Stars)
Honoree Darryll King (WYCA 102.3 FM & WSRB 106.3 FM On Air Personality)
Honoree Santrice R. Martin (Emerging Leader of the American Heart Association, is the Director of Multicultural Initiatives)
Honoree Tony Tidwell (Billboard Ranked Gospel Artist)
Honoree Johanns Williams (Regional Franchise Director at LaQuinta Inn & Suites/LQ Management)
Honoree Ja'Mal Green (Chicago's Voice. Singer-Songwriter, Ghostwriter, Author, Entertainer, CEO, Activist)
Honoree Thomas "DJSlugo" Kendricks (King Of Ghetto House Music & Blok Club University)
Honoree Brian "DA Wildcat" Smith (Actor & Comedian)
Honoree Pastor, Dr. Lisa Arnold (Living to Live Again Family Worship Center, Commisioner of Hazel Crest and Cook County Sheriff Clergy)
Honoree Art "Chat Daddy" Sims (WVON Radio Personality)
Honoree Bryant "BLT" Turner (Comedian & Media Personality)
Honoree Elect Lady Araina Mickens (Community Leader: Lights of Zion MB Bible Church)
Honoree Chris Arnold (The Temptations Review)
Honoree Tanya Winfield (Biggest Loser Season 15, Entrepreneur, Restaurateur and Corporate Leadership/Management Executive with Fortune 500 companies)
Honoree Dr. Sabrena Davis (Vice President of Educational Services at Edison Learning)
and more....
Purchase your tickets today to celebrate our community heroes on
www.IndustryBuzzZ.com
Who is your community Hero? Let us know today at
www.IndustryBuzzZ.com
www.LutonyaMLang.com
PURCHASE TICKETS ONLINE TODAY!!!
www.IndustryBuzzZ.com
Your support will help us to employ our youth with jobs in media all year around....
https://www.youtube.com/watch?v=4g1CybifjL...
Event Partnership Packages and AD Program Opportunities
Now Available!!! Become A Proud Sponsor email us today at Connect@IndustryBuzzZ.com or call us at (678) 792-8999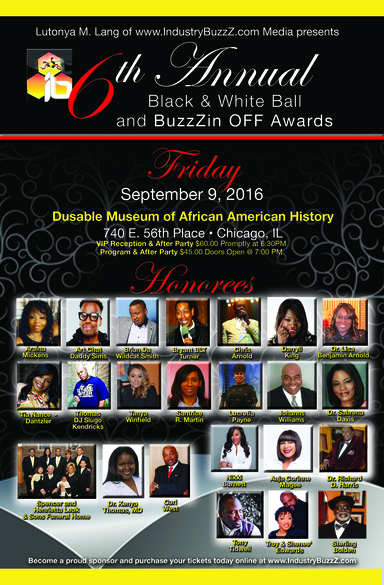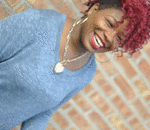 Posted By: Lutonya Lang
Tuesday, August 23rd 2016 at 12:41AM
You can also
click here to view all posts by this author...