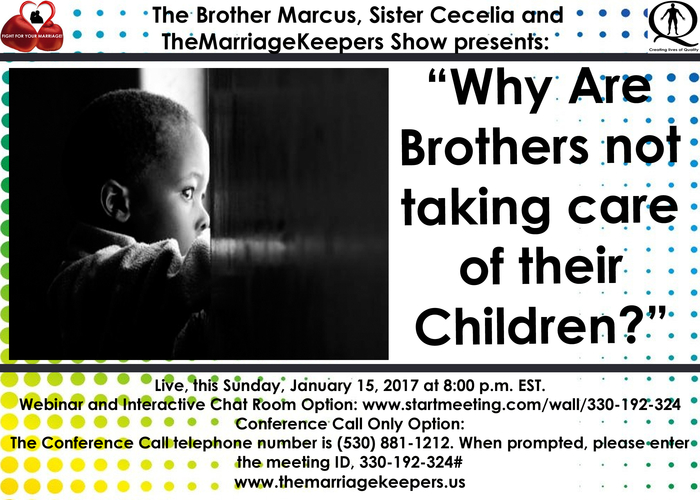 Facebook link to this show:
www.facebook.com/events/176757342802976
God willing, this Sunday, January 15, 2017, at 8:00 p.m. EST., please join your Marriage and Relationship Servants, Brother Marcus, Sister Cecelia, and TheMarriageKeepers as we confront the topic, "Why are brothers not taking care of their children?"
You can participate in our live show for free. You will want to listen in to this show! How you can access the Live Show this Sunday, January 15, 2017, at 8:00 p.m. EST.:
Webinar and Interactive Chat Room Option:
www.startmeeting.com/wall/330-192-324
Conference Call Only Option:
The Conference Call telephone number is (530) 881-1212. When prompted, please enter the meeting ID, 330-192-324# or 720-477-5046 and then 701-801-1211 and then 330-192-324.
Abstract / Objectives of this Discussion:
This topic is rated (S) for Singles and (M) for Couples in the process of marriage and (P) for all Parents trying to understand the Children we have produced.
For the one in three children growing up in homes without their biological fathers, there is one critical question they can't seem to silence: "Why did my dad leave?" How can a man just walk away from his family? Is there even an answer? As a man fully committed to the well-being of my family I don't believe there is one single answer for why this happens. But feeling like the "perfect" dad stems from a gross misunderstanding about the real role of fathers. Good fathers do three things: provide, nurture and guide. Yet, too many men have warped ideas of what this means, and it sets them up for feeling unworthy. "The 'provide' part, a lot of times, guys will make that economics. But it's not just about presents… but presence... I have found [that] the kryptonite for men is inadequacy," she says. In this show, we will go through the top reasons that men use to try to justify how they feel.
If you would like to take the opportunity to learn this very important Advanced Relationship and Parenting Skill that we will share by the grace of God this weekend then please join us for this very fascinating dialogue! Our aim is to always support you in your desire to become better future Husbands, Wives, Parents and better People in 2017. In this show, Brother Marcus and Sister Cecelia and our panelists will re-share truly profound, wise words from the Honorable Minister Louis Farrakhan from previously written articles that have appeared in the Final Call Newspaper and from his vast catalog of lectures and speeches that he has delivered throughout the world on the topic of Marriage, Parenting and Family Restoration!
Facebook link to this show:
www.facebook.com/events/1922613727960595
Please like both of our new Pages on Facebook and our Main Website:
(1)
www.facebook.com/the6thAnnualNationalMarriageRetreat
(2)
www.facebook.com/lovingandhealinghandsmassage
(3)
www.facebook.com/Themarriagekeepers-467098296793598
(4) Our products and services:
www.marcusandcecelia.com/Products.php
Call 770-256-8856 for any of the above mentioned services
(5) To see all of the photos from the 2016 – 6th Annual National Marriage Retreat in Atlanta, Georgia, please visit:
www.facebook.com/brothermarcus.peace/media_set?set=a.87154280964476...
***** Donations *****:
Please be kind and make a generous love offering to help us in the tremendous work we are striving to do in 2016. It would be very appreciated and God will bless you for helping us. Please click this link to donate:
PayPal.Me/strongmarriages
Action Items For Our Other Magnificent Events and Programs:
(1) *** Farrakhan Must See TV / Clip of the Week!: The Honorable Minister Louis Farrakhan recently spoke at Rutgers University on the great legacy of Paul Robeson. He was invited to speak by the men of the Delta Iota Chapter of Alpha Phi Alpha. The Black fraternity organized the Minister's recent visit and lecture to students on campus. Here is a dynamic video clip of this historic meeting.
https://vimeo.com/ondemand/rutgers2016/192833970
Please help the Nation of Islam to spearhead the liberation of the oppressed. Visit our websites for to make a donation as we intend to do more for our communities and for the poor and disenfranchised who suffer abroad. Please make a tax-deductible donation. Visit our National Website for more information:
www.noi.org/donate
Please check out these other Official Websites of the Nation of Islam:
www.noi.org
www.finalcall.com
www.economicblueprint.org
(1a) The Final Call Newspaper: The Final Call Newspaper makes a terrific gift of knowledge, wisdom and understanding. Order a subscription by calling our toll free order number 866-602-1230 or online at:www.finalcall.com/subscribe For the digital subscriber option, please visit:www.digital.finalcall.com
(2) Isagenix International, LLC is a multilevel company that markets supplements and personal care products that are solution based and aid in weight loss, energy and performance, youthful aging and wealth creation. Go to
www.isamovie.com
and then call Brother Marcus at 770-256-8856 for more information. We can help you to receive a huge discount. Isagenix has real health solutions to help you rid yourself of the poisons / toxins in your body in 2017. These products are outstanding and they have helped us greatly to reach our weight loss goals as well as rid ourselves of high blood pressure.
(3) The Wali Marriage Counseling Services:
Our Wali Marriage Counseling Services are available for all couples who need an impartial couple to not only hear the problems that they are experiencing in their marriage. You should not even consider divorce before reaching out for these valuable services. Please call 770-256-8856 to set up your appointment with us. To learn more about bringing Brother Marcus and Sister Cecelia into your city to conduct their signature Marriage Empowerment Workshops and Singles Success Seminars, please call us or email us at: marcusmuhammad@hotmail.com
Our New Books:
Get our new book, "Universal Marriage and Relationship Tips".
https://www.createspace.com/5855232
Our websites:
Websites:
www.marcusandcecelia.com
/
www.themarriagekeepers.us
Our Professional Massage Services:
www.facebook.com/lovingandhealinghandsmassage
Phone: 770-256-8856
Email: marcusmuhammad@hotmail.com
Our Social Media Presence:
Facebook:
www.facebook.com/brothermarcus.peace
www.facebook.com/marcus.aaron.393
https://www.facebook.com/cecelia.muhammad.7
www.facebook.com/5thannualmarriageretreat
Twitter:
www.twitter.com/brothermarcus
www.twitter.com/SisterCecelia1
Instagram:
www.instagram.com/brothermarcus
Make money advertising your business! This is a powerful website!:
https://www.thumbtack.com/welcome?refer=p3gtnqct
About the Brother Marcus, Sister Cecelia and theMarriageKeepers Show:
Brother Marcus and Sister Cecelia Muhammad are active, registered believers in the Nation of Islam and attend Muhammad Mosque #15 under the leadership of the Southern Regional Student Representative of the Honorable Minister Louis Farrakhan, Abdul Sharrieff Muhammad. They have been in the process of marriage for the last 24 years. The Brother Marcus and Sister Cecelia Show is one of the only platforms the Nation and our people have to talk seriously about Marriage, Relationships and Properly Parenting our children in 2017. Our shows are exclusively designed for couples in the process of marriage as well as single people who still desire marriage. The purpose of the show is to help both men and women to line their lives up with the standard of God and make His thoughts and ways the centerpiece of our marriages. This particular show represents our 171st Internet Radio Show in service to the Honorable Minister Louis Farrakhan, His National, Regional and Local, Laborers and other concerned Christian Pastors and Preachers. We wish to promote positive and healthy marriages in our communities and to stop the obsession with divorce among our people! We are striving very hard to use God's airwaves constructively and offering 'free, online marriage counseling' that help to aid us all in becoming character filled, valuable final products! We absolutely love to serve and to minister unto you, and to learn from you and we strive very hard to specialize in discussions that are worthy of discussion!
Facebook link to this show:
www.facebook.com/events/176757342802976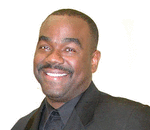 Posted By: Brother Marcus!
Saturday, January 14th 2017 at 11:42PM
You can also
click here to view all posts by this author...