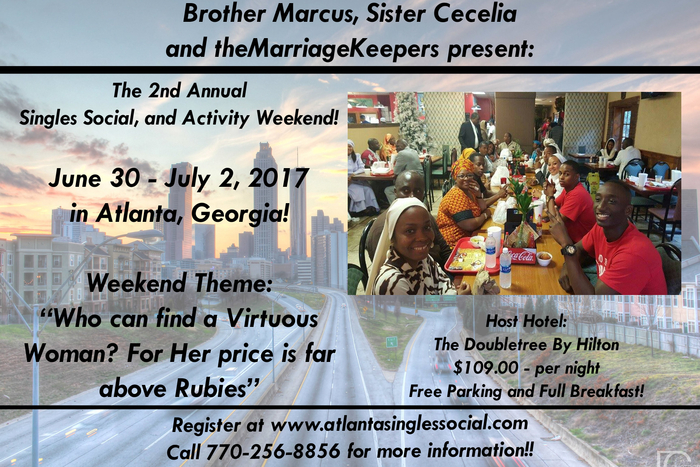 Brother Marcus, Sister Cecelia and theMarriageKeepers present:
2017 2nd Annual Singles Social, and Activity Weekend!
June 30 - July 2, 2017 in Atlanta, Georgia!
Weekend Theme:
"Who can find a Virtuous Woman? For Her price is far above Rubies"
Host Hotel:
The Doubletree By Hilton
$109.00 - per night
Free Parking and Full Breakfast!
Register at
www.atlantasinglessocial.com
Call 770-256-8856 for more information!!
We can take the first 50 sisters, but then we have to cut it off! We will have more brothers than sisters at our event! So please register early!!!
(2a) Talent Showcase 2017 featuring the Human Orchestra, Kenny Muhammad!! This is going to be an extremely powerful talent showcase. It will be held on July 1, 2017 at The College Park Auditorium! The address is 3631 Main St, Atlanta, Georgia 30337. You can vend at this event for $10.00. Tickets are whatever you feel would be a good donation!! All the Single Activity Weekend members will experience this for free!!
The 7th Annual National Marriage Retreat has been scheduled for Chicago, Illinois on August 17 – August 20, 2017. Please visit
www.themarriagekeepers.us
for all the information that you need. Expect to hear from many of Chicago's very own Student Ministers! Thank you so much for being a part of the 7th Annual Marriage Retreat. Call 770-256-8856 for more information!!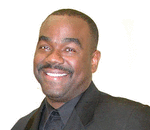 Posted By: Brother Marcus!
Thursday, April 20th 2017 at 12:16PM
You can also
click here to view all posts by this author...