Today I want to start the new topic of book trailer reviews. In recent years, their necessity's been up for debate. On one side, it may ruin the readers' imagination of what lies within the book. On the other side, we live in the age of video and more people prefer to watch screen images than to read a book. However, I think book trailers, in all their good, bad, or ugly glory, are here to stay.
Book trailers come in many forms. Authors may sit and talk about their book. They may discuss the book on location as a favorite author of mine Michael Connelly does quite frequently. They also summarize a story like a TV show promo or a movie preview. Trailers vary in style. Some use photographs, animation, video clips, stock footage, and for the more ambitious projects, actors. They also vary in length. Some clock in for several minutes and others register at ten to fifteen seconds. Audience attention spans and convoluted plots can determine the length. Another factor to consider, of course, is cost. I've managed to spend very little on my trailers due to special offers, good deals, and some creative common license images.
In a few weeks, I'll release my next trailer in the Atlanta X-Men Homicide Squad series. My fourth overall, I believe the quality in each one improves due to more familiarity with the craft and the challenge to do something a bit different each time out. A combination of Windows Live Movie Maker, which I used exclusively to create the Kremlin Tide, Cold Lick, and S.Y.P.H.E.N. trailers, and VSDC Video Editor, did the job for me this time.
The first trailer I want to highlight comes from a thriller novel by one of my preferred authors, Lee Child. His Gone Tomorrow's not only an exciting read but the book trailer hooks you as well. In fact, it was the book that provided key information in my science fiction/thriller, S.Y.P.H.E.N. Here's the link to my book review for Gone Tomorrow:
https://www.barnesandnoble.com/w/gone-tomorrow-lee-child/1100162028
Okay, copy/paste the Gone Tomorrow book trailer link above. There's one for forty-five seconds and another for four minutes. I've got the longer one here and I rate it four out of five stars. Enjoy!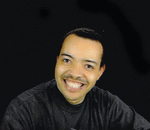 Posted By: Cortez Law III
Monday, June 19th 2017 at 7:51PM
You can also
click here to view all posts by this author...