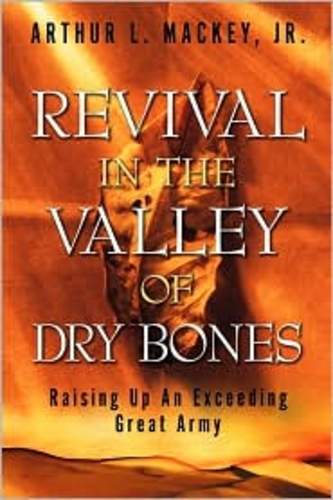 ARTHUR L. MACKEY, JR., is the pastor of the historic Mount Sinai Baptist Church Cathedral in Roosevelt, New York. He is also president of Vision of Victory Ministries and Arthur Mackey Ministries. He is a graduate of Virginia Union University in Richmond, Virginia, where he majored in religion and philosophy. He is also a community research assistant in the Office of Communications and Public Affairs for the Town of Hempstead, America's largest township. Pastor Mackey is the noted author of the Biblical Principles of Success, Walking Through the Doorways of Destiny, Inner Healing for Men, Inner Healing for Women, and Real Revival. Pastor Mackey has ministered throughout America, Europe, and Africa. In this book entitled Revival in the Valley of Dry Bones: Raising Up an Exceeding Great Army, Pastor Mackey states, "Clearly, there is a dire need today in our cities for a word of true prophetic destiny that sets the captive free from the brutal bondage of modern-day slavery where the poor are the last to be hired and the first to be fired. Even in the midst of the valley of apparent hopelessness, we must not give up, because there is divine hope from above. We can be the visionaries of victory rather than the everlasting victims of the vicious system."
http://search.barnesandnoble.com/Revival-in-the-Valley-of-Dry-Bones/Arthur-L-Mackey/e/9781597811569/?itm=5
Posted By:
Monday, September 8th 2008 at 6:01PM
You can also
click here to view all posts by this author...