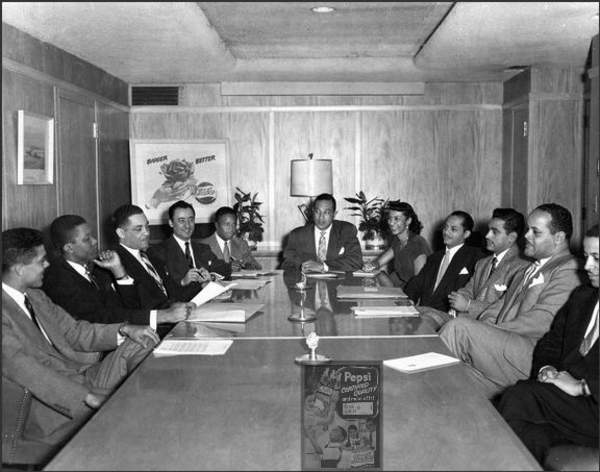 Despite a history of discrimination and marginalization, the African-American consumer base has always been a lucrative and influential market highly desired by leading companies. Today, Black households command $656B in earned income, and African-American ad agencies such as Burrell Communications, Uniworld Group, Carol H. Williams Advertising, and Coleman Advertising are venerable institutions in the advertising industry.
Corporate America saw the emergence of African-American advertising executives during the 1940s and 1950s, at a time when Black faces in the office were more likely to be custodians, mail clerks, or service personnel rather than account execs or analysts. Although many major firms such as GM, Philip Morris, Coca-Cola, Carnation, and Ford were early adopters of African-American targeted marketing, progress of Black professionals in these organizations came slowly and at a great cost. Despite these challenges, pioneers such as Ed Boyd (Pepsi), James Avery (Exxon Mobil), Moss Kendrix (Coca-Cola) established the presence and viability of Black marketing executives in America.
Pepsi was one of the first major American companies to make a serious investment in training and developing an African-American sales force and marketing division. Facing stiff competition from Coca-Cola in the late 1940s, Pepsi CEO Walter Mack brought on two of the nation's most influential Black ad executives, Hennan Smith and Edward Boyd to develop and organize a sales team to increase market share in the African American community.
Their campaign was one that would make advertising history. It was one of the first targeted campaigns to African Americans that featured ad creative with positive depictions of African Americans, including profiles of famous figures such as Ralph Bunche and Gordon Parks. One famous 1947 advertisement features (future Secretary of Commerce) Ron Brown as a child. Their team of twelve Black sales executives faced many challenges and indignities, especially while traveling in the South, but were singlehandedly responsible for giving Pepsi a dominant market share in African-American concentrated markets such as Chicago. With a shoestring budget, this sales team developed relationships with both Black consumers as well as White distributors and bottlers, gaining respect from Blacks and Whites alike.
Another Black pioneer in advertising was Thomas Burrell, whose agency now commands over $140M in annual revenue, with clients such as McDonalds and Verizon. Despite struggling academically in college and being advised to drop out by his college advisor, Burrell instead finished school and launched a career in advertising. As a fledgling company, he managed high-profile campaigns for Marlboro, McDonalds, and Coca-Cola in the early 1970s.
His contributions set the standard for urban-targeted media, researching an consumer segment that was often defined by stereotypes and adaptation of "mainstream" marketing campaigns. Thomas Burrell has been recognized as a thought leader in not just ethnic-market advertising, but in communications and journalism as a whole.
These leaders in business paved the way for young professionals such as myself, and without their vision and sacrifice, my career would not be possible.
Posted By: Jon C.
Wednesday, October 22nd 2008 at 11:43AM
You can also
click here to view all posts by this author...