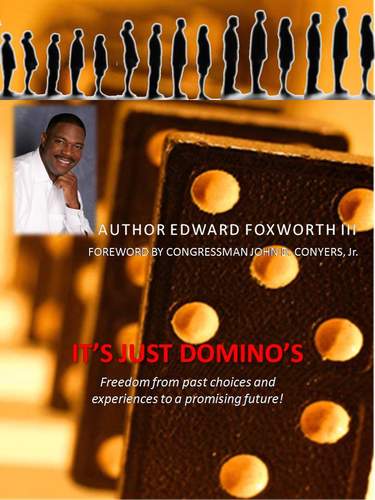 Ed Foxworth is the Author of the honest and emotionally moving urban story, entitled "It's Just Domino's", which is about the chain reaction that plays itself out over and over again in inner-city neighborhoods.
"It's Just Domino's", explores the life of a young man named Trey as he grows up in an urban community and attempts to dodge the temptations of life. Despite his mischievous participation, he eventually matures, having escaped the challenges experienced by so many offtrack, urban adolescents; going to jail for selling drugs, becoming teenage parents, dropping out and/or refusing to get a higher education. The characters in It's Just Domino's and their situations, mimic scenarios played out in urban households and communities across the country.
"It's Just Domino's" has been purchased and used as "Required Reading" for male and female adjudicated youth in various Juvenile Detention Facilities and Afterschool Programs. A quick read, it is an excellent intervention book that educates and assists in changing the mindset of so many. Mr. Foxworth believes that people can realize freedom from their past choices and experiences, while moving on to a promising future. "They must first understand who they are and secondly want more for themselves, beyond their circumstances."
Ed Foxworth is a motivational speaker and available to speak to your agency, employees, schools or nonprofit. Serious inquiries, call 1-877-890-7703.
Posted By: Edward Foxworth, III
Monday, October 27th 2008 at 5:51PM
You can also
click here to view all posts by this author...